Personal Bests
I broke a PB today.  Actually, re-phrase that, I smashed a PB today, decimated it, tore it a new hole, and not just any PB, it was the test piece route that I return to time and again, and have done for many years now.  Brilliant!
My 'Tollymore Boundary Route' is an 8.1 mile circumnavigation of the whole of Tollymore Forest, tracking the boundary over two shapely lumps that provide 355m of climbing on stony, gritty and sometimes greasy forest trail.  Over the years times have dropped rapidly, stagnated, dropped again and sometimes risen but been on a general downward trend since I started running about seven years ago.  I recall breaking the 53-minute mark, a long-standing 51:17 and then the breakthrough moment when sub-50 was achieved.  Over the last couple of years, times in the high 49's have become the norm, but the effort required to achieve those times has lessened.  I remember some suicidal efforts back in the day, attacking from the start, desperately forcing fast cadence from rapidly stiffening muscles, a comically short stride length ensuing.  Experience has brought sense, and these days a steady approach is favoured, keeping the body relaxed, breathing regulated and a maintained insistence that upon crossing the finish line, I'd always be good for another lap.  Two years ago, I posted a comfortable 49:11 during a period of excellent form and that time has taunted me ever since, prompting the question whether sub-49 was ever achievable?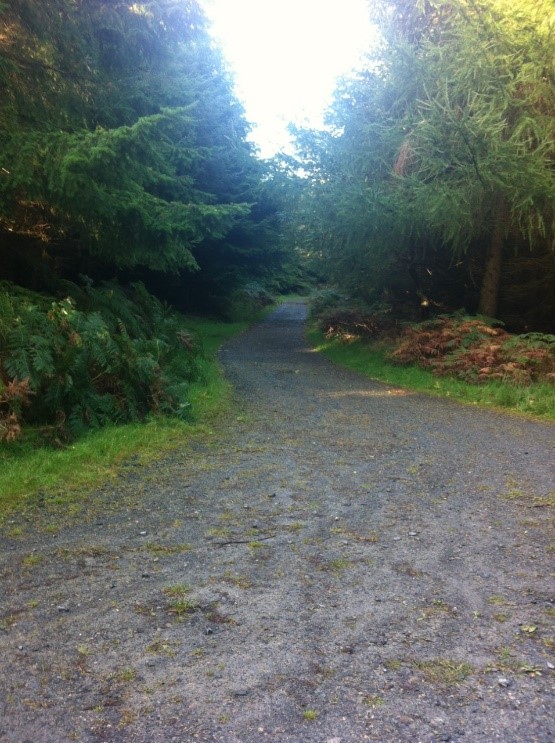 Back to the trails after a long spell in the mountains and running better than ever!
Just Another Run?
Today was seemingly no different to the last two weeks that provided a 50:11 and 50:17, certainly displaying no deliberate intent to try any harder.  Having trained primarily in the hills since late-Summer for the recent Mourne Skyline, I'm only just returning to the trails, rediscovering the alternate technique of longer strides and prevalent heel-strikes.  The run commenced steadily, easing down the initial drop to the river, damp grit flicking up on to relaxed calves, but hitting the first hill the legs felt zippy, a notable inherent pace that I've not felt in a long time.  Going with the flow, the 130m first climb was dispatched effortlessly, breathing barely noticeable and legs turning over without conscious input.  A glance at the watch at the two-mile mark, that coincides exactly with the summit, showed 13:03, thirteen seconds off previous best but still promising, mostly because of the ease with which I'd got there.  From that point, the time remained a secret until the end, interim checks tending to ruin concentration, forcing artificial pacing rather than going with feel, and so I revelled in the mystery, wondering whether this run would be the one that showed a return to previous abilities.
Pacing
I have four distinct training paces that are utilised for different means;
1) Steady-Easy
2) Steady
3) Steady-Hard
4) Hard
Steady-easy is purely for recovery sessions and hard purely for intervals, way beyond what I'd even use in a race situation.  The bulk of my training is done at steady pace which is defined as comfortable, not deliberately forced.  Steady-hard is when I tend to lean forward, pushing slightly higher cadence and feeling a touch of cardiovascular discomfort but still able to maintain it long-term.  Today was a mix of steady and some occasional steady-hard, aware that the legs were turning over fast and also that a sub-50 may be back on the cards, but certainly not aggressively pushing the point.
Tangible Improvements
Miles ticked over, familiar landmarks noted and the end speeding ever closer.  My mind drifted back to old attempts where I'd deliberately upped the pace from the wooden shed for the final three-quarters of a mile, and I realised that these days, that's my standard speed for the whole lap, bringing the satisfying glow of tangible improvement.  There was no sprint for the line or desperate lunge, just the beep of a stopped watch and a continued run up the off-course section back to Tollymore Centre.  Finally checking the time was a huge shock, 48:31 had hacked forty seconds off my best ever, FORTY SECONDS!  I knew that sub-49 was feasible but haven't produced a run of real quality all year, instead getting close to, but not surpassing lots of other personal bests.  Naturally I'm delighted, not only with the time but also the manner it was gained, perhaps indicative of a whole new level of running fitness, never before realised.  Most important is the reassurance that I continue to improve, and still have the ability to carve significant percentages off long-established benchmarks, filling me with confidence for ambitious future goals that still burn bright.
Unfortunately, alongside the elation are a couple of tinges of disappointment and apprehension.  I want to shout this achievement from the rooftops, it's an ongoing culmination of years of dedication, a clear demonstration that despite pushing forty, the body still advances, attaining degrees of fitness and ability never managed in younger decades.  That alone is enough to wax lyrical on, but it's also stoked those coals of immense motivation, shown me that limits are still there to be smashed, set me wondering just what I may be capable of.  I want to scream it, release this warm glow, bask in the joy but nobody cares!  The kids were quite impressed without grasping the concept at all and Anna was unsurprisingly disinterested because frankly it's so unimportant.
And yet every runner reading this knows how untrue that is, because it does matter, it massively matters, seconds matter, minutes matter, the chronological proof of thousands of hours of bloody-minded suffering matters, and knowing how much it matters buys you entry into an elite club of those who understand.  Whether it's a sub-four marathon, a fifteen-minute 5k, a twenty-hour hundred miler, we set our goals and live or die by the outcomes.  You ask a 3:00:01 marathon runner whether times matter as they slump on the fence just beyond the inflatable arch, if they had the strength they'd use it to throttle you.
So for me, at least I have the blog.  Internet responses to previous posts and many hundreds of kind words made in-person have shown me that there are plenty of folk who'll read this who understand, and that fills me with happiness.  You don't need to tell me, I've enough intrinsic satisfaction to know today was pretty special, but the therapeutic relief of knowing that someone else might care, or even draw inspiration from my efforts is immeasurable!
Stats
Here's the unashamed stats, you don't have to read them, I just want to store them now until I better them once more.
8.1 miles (13.04km)
355m ascent/descent
48:31
6:02 average mile pace
2:38:00 marathon pace
Ground conditions wet and greasy
Pace steady with occasional steady-hard
Legs comfortable
Body very comfortable
I mentioned mild apprehension and annoyance resulting from this effort which may strike you as a strange reaction, but the fact is that the mountain running season has literally just finished in Ireland as I reach a new peak.  I feel all dressed up with nowhere to go, fully race tuned without a race, and I'm nervous that this Winter, like virtually all before it will provide injury and frustration rather than a solid platform for further improvement.  Time will tell, but in the meantime the strength training and base miles will continue as will the unending appreciation of the emotions unearthed by sport.