I read the Pinkbike review of this bike with great interest, after all I've been on Stanton for a number of years and my Switch 9er Ti has performed impeccably through the most diverse and testing set of conditions imaginable. I've long been an advocate of the hardcore hardtail, with tangible results demonstrating that the lack of rear squish is far from the crushing ability-crippler that many consider it to be. However, a couple of occurrences last Summer prompted a rethink as I realised it may be time to re-embrace the spring.
The primary factor was my mate Tony getting a new Orange Stage 6 to replace his old Five. All of a sudden on bigger wheels he was flying, and the back wheel that I'd have happily sat on before was flicking and leaping into the distance. Ego aside, it prompted realisation that a change in equipment genuinely can instantly improve a rider, maybe it was time to unleash my full capabilities again? Then the clincher came, trying to stay with Tony down a local root fest called Off Camber I had an unfortunate off that tore my AC joint, leading to weeks off the bike and months of having to sleep on one side.
Retail therapy usually accompanies enforced lay-offs and so a quick email to Stanton and the deed was done, it would take a while to be ready but my Switch 9er FS Ti was on the way.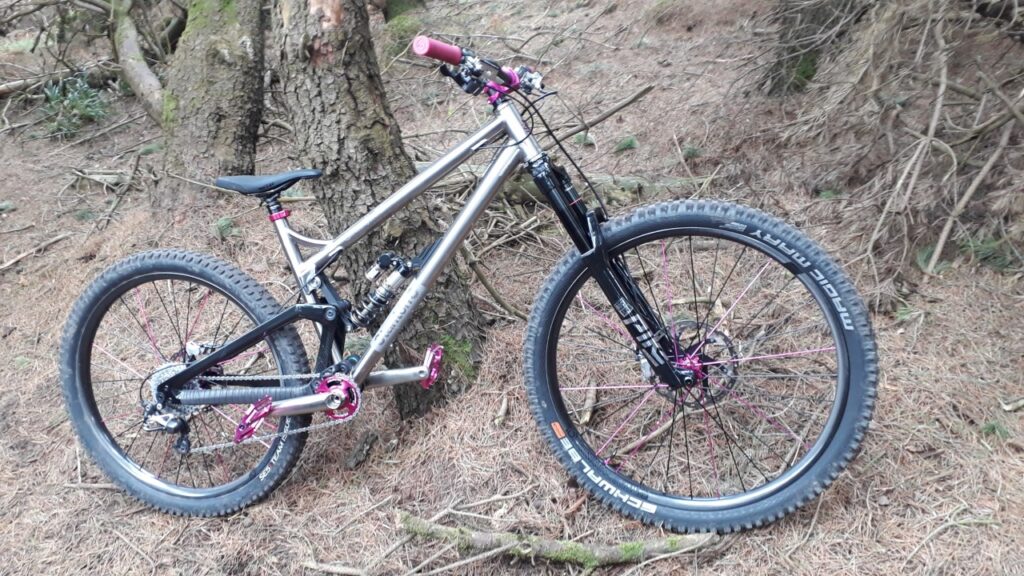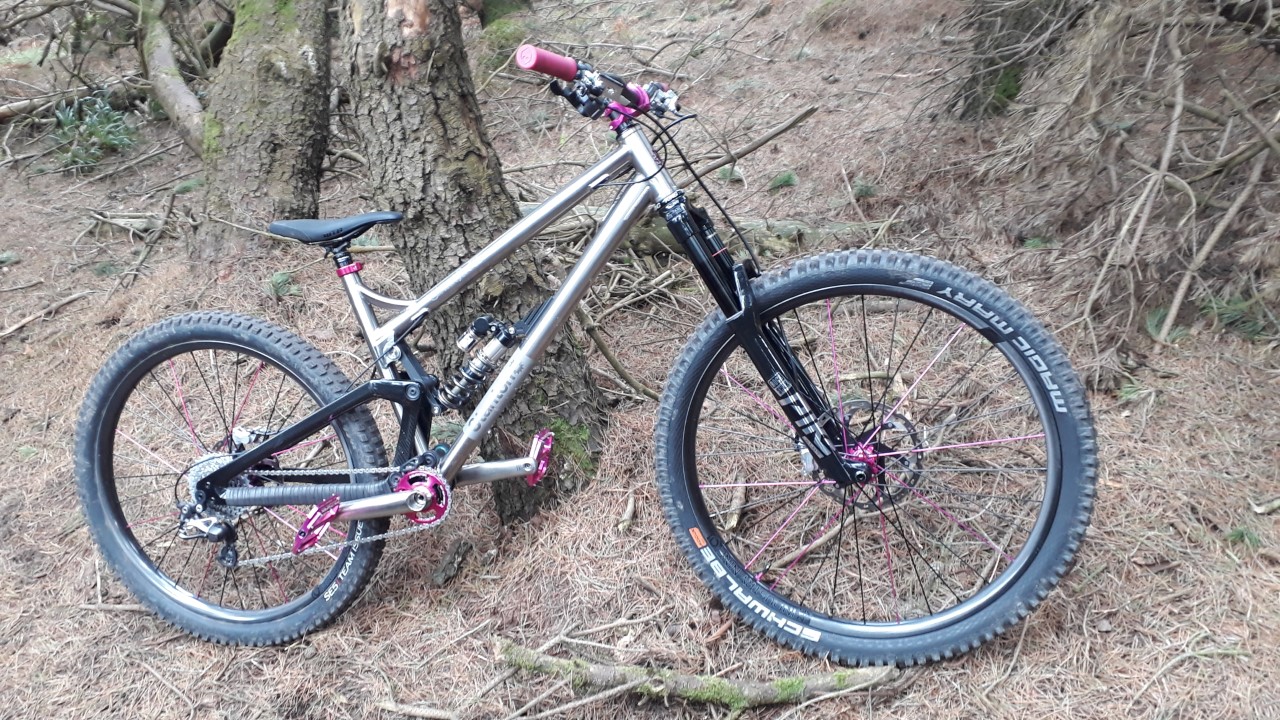 Negative Vibes
So back to the Pinkbike article. Although it was actually saying many gratifying things about the bike there was undeniably an underlying sense of negativity. Several niggles clearly irked the reviewer, most of which came from the particular bike that Stanton had sent. It had the wrong shock, possibly the wrong tyres, and needed some TLC on the pivots. I got the impression that the reviewer was a bit pissed off at having to invest some time into getting the best from the bike and so by the time it was properly up and running he'd lost patience altogether.
Stanton have to take some blame for this impression. The test bike should've been sent with an EXT shock from the start, the suspension curve of the FS Ti NEEDS a high volume, linear shock to work, otherwise it will always ramp up way too quickly leading to a harsh feel and the 140mm of travel never being effectively used. Added to this, having a sticky pivot and rattly cables was a simple to fix oversight, as was the way that the bottom bracket had been spaced (more on this later). They were all easy enough fixes but in a market as niche as £4.5k frames it's not unreasonable to expect near perfection. I'm guessing that testers are used to being sent bikes that are top spec and perfectly set and so this was a bit of a slap in the chops.
However, in defence of Stanton some of the article was gibberish, claiming that the carbon rear end is two-piece, going off on a strange tangent about head-tube length and reach measurements and over-emphasising the aforementioned issues to produce a noticeable negative vibe. It was no hatchet job, but it was definitely not particularly forgiving either and as a rider eagerly awaiting the arrival of my frame it was a bit of a downer.
Racing the Administrators
It was a long wait for my frame and so I had plenty of time to mull over the article! The custom touches I required along with unavailability of the rear end meant I was counting months not days. In the end it arrived JUST before the administrators rolled into Stanton HQ (a separate story altogether, thankfully now rectified). I'm a firm believer that the best things are well worth waiting for and so I wasn't particularly perturbed. In fact, when the bike arrived I was actually only expecting a Ti bar for the hardtail so it was a very pleasant surprise when a bike box appeared at the back door!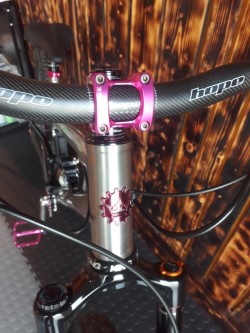 Frame Set-Up
Make no mistake, this frame has some very unique kinematics and I knew that rear shock choice and set-up would be vital. The EXT seemed to match it best and through some chat with their importer at Mojo Rising (MASSIVE thanks to Chris Porter for some really honest advice) I settled on a 325 spring, much lighter than recommended for my weight on other frames.
The Pinkbike article seemed a bit doubting over the heavily progressive nature of the 9er's design but to me it makes perfect sense. I've seen so many shocks get destroyed on bikes because the frame design left the shock to do too much to guarantee the desired characteristics. Air cans working overtime to add a progressive nature whilst under excessive torsional forces leads to blown seals, and so why not allow the frame to take care of the ride characteristics and the shock to just do its job as intended. Progressive frame, linear coil shock, great solution, I just hoped it would translate into performance on the trail.
Myth Busting and Mechanics
The Pinkbike article had highlighted some issues that really concerned me, namely the chain rubbing on the swingarm, cables rattling and bowing out into the rider's legs, and very poor tyre clearance. None of them turned out to be true, all it took was a bit of time and some simple mechanics.
The bottom bracket spacing was the most time consuming, finding the perfect combo of spacers to allow the eewings to connect properly whilst both clearing the chain away from the swingarm and leaving room for a chain device. It was trial and error but not brain surgery and to me that time spent getting a new bike dialled is a pleasure, not a pain. The upshot was that even with the spring removed and the shock totally compressed, the chain couldn't get near to the swingarm even with the bike in the lowest gear (see video).
Next up was the cables. I had to take a file to the metal inserts on the frame and the plastic inserts of the swingarm to fit the Goodridge brake hose but along with a specially made cable tie connector (see pic) I eradicated any possibility of the cables flexing outwards and there have been no issues with rattling at all, this bike is silent apart from the well-known 'whooshing' of the EXT shock.
Finally rear tyre clearance. I knew in advance that there would be no problems as I'd long-since decided to go mullet, having spent a few really fun months on a mulleted hardtail last year. Now I'm well aware that putting a 650 wheel on a frame designed for 29 can be a problem, but the high bb height and progressive kinematics of the FS 9er actually make this the perfect frameset to mullet. I counteracted the slackening of the head angle by speccing a 150mm fork and a 40mm stem to bring my weight slightly further forward.
The lower bb height with the smaller rear wheel was a potential risk but I was confident that what I'd get would be better cornering and still no pedal strikes; I'm delighted to say that I was 100% right. All the upsides and none of the downsides, even the slightly slacker seat tube angle hasn't prevented the 9er from being an uphill weapon. Just check my Strava times on pedally trail centre training loops, truly remarkable on suspension and flat pedals compared to my hardtail and clips.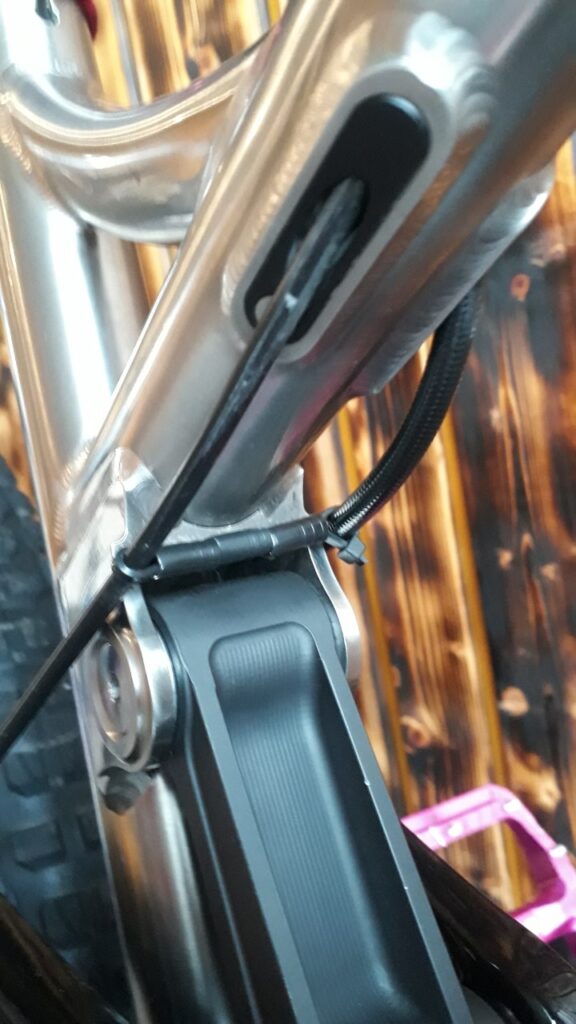 The Spec
Only the best, as befitting such a stunning frameset. Forks-wise I had a bit of a quandary, do I go full bling with the EXT Era or stick with what I know with Rockshox Pikes? It was a real agoniser but in the end I decided that the Pike with an MRP Ramp Control was the way to go, a decision assisted by the refreshing honesty of EXT importer Chris Porter who said that whilst he could get the Era working to perfection, if I know how to get the very best from the Pike then it may be worth saving the extra £1k.
I know the Pike Ultimate inside out and with an MRP they are both functionally awesome but also incredibly easy to service. The bike has plenty of boutique components, most notably the Trickstuff brakes, and whilst they work incredibly, they are very expensive for replacement parts; a pretty mundane crash cost me 147 Euro to fix last year! Boutique bits can outperform everything else but I wanted the reassurance of the known when it came to a component as vital as the fork.
Elsewhere is a smorgasbord of the very finest kit available. I9 315 carbon wheels, eewing cranks, Hope carbon bars and I9 stem, BikeYoke 213 dropper, Ti WTB seat etc etc. I also put a lot of thought into electronic gearing having great love for the SRAM Red AXS on my road bike but ultimately was put off by the vulnerability of a megabucks rear mech and my hatred of dinner plate cassettes. The Saint rear mech is still the best on the market as far as I'm concerned, robust and positive with that super-short arm keeping it way out of trouble. The Burgtec chainring is a 28t and if I can't get up absolutely anything on a 28-36 low gear then it's more training required, not a change of equipment.
I'm not a luddite by any means, just check out my custom carbon full-electronic Fifty One road bike, but I honestly believe that in the Irish slop, 10 speed is still the best set-up and so a 10spd Saint shifter does the duties paired with an XT 10 speed cassette and chain. What that means in reality is that my entire gearing set-up costs less than a SRAM Eagle cassette! The savings were put towards the rest of the bike where I'd notice it more.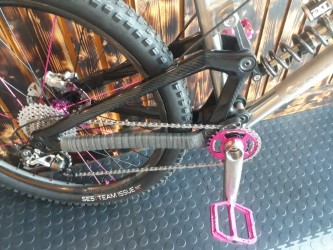 The Ride
Fortunately, having read up extensively on the EXT shock I was prepared for just how strange it feels in the car park. Lapping round my house having gone with recommended base settings it felt so sluggish. The rebound felt like it had a hangover and the compression seemed limited to about 50mm. Granted, after a few years on hardtails I think I over-expected but it was still massively underwhelming. The next morning, as I ploughed into a lattice of closely-spaced roots the magic truly began to happen.
Having opened to rebound to one click from full, somehow there was suddenly no packing at all, without fuss the shock just glued the rear wheel to the slippery madness and sent me on my way at full speed. In the couple of months since, the only adjustment needed has been to open up the high speed compression two clicks and everything feels so planted. Just remarkable.
Going Up…
I'd struggle to imagine a more efficient climbing 140mm bike. Without ever touching the lockout this thing genuinely feels every bit as capable as the hardtail 9er Ti that I continue to use for coaching and training duties. The rear end is super-progressive and so bob is limited to the small amount of movement required to smooth out the trail, and laterally there is no noticeable flex, it just goes fast with minimal fuss. I rarely get out of the saddle, even on the super-steeps but when I do there's still no sense of energy loss. I know that this was a very deliberate facet in the design and Stanton have nailed it completely, it's on a different planet from the likes of the Santa Cruz and Ibis superbikes that I rode previously, where the bob was plainly evident. I wanted a trail bike that felt fast everywhere and that very much includes the climbs, I'll never be the type to click into my 52t low gear and ascend at slower than walking pace, I want to get to the next descent ASAP.
And Back Down…
You don't build a bike like this to go uphill though. Downhill capability is the defining facet of all bikes and the crux of performance worthiness. I was looking for a frame that I could seamlessly jump on straight after the hardtail and instantly feel at home. The dimensions of this bike are very similar to my 9er and so it really ticked from that perspective. The last thing I was after was a DH style point and shoot trail swallower, I've had those before and they can feel so lifeless on our steep, twisty trails where popping off roots and clearing sections is preferable to the lottery of wheels-down and washing out.
This bike is truly alive, and whilst it does glue to the floor as required it also takes zero effort to get airborne, the best of both techniques. I'm still riding with the same degree of precision, gleaning satisfaction from pinpointing lines, but with the bonus of having some forgiveness if I get it a touch wrong. The proof in the pudding is very simple, without pushing as hard or taking risks my times have improved by twenty seconds or so on runs that I'm totally familiar with.
Now compared to a hardtail that's obviously pretty arbitrary but the Strava tells me that suddenly I'm up near the top end, amongst riders that I'd just assumed were faster and better than me, and this is in the dead of Winter. I can't wait to see how things progress with a few months more familiarity and a period of dusty dryness.
Mulleting a frame designed for 29″ wheels was always a risk but I'd categorically say it's been one that's paid off. It's given me more tyre clearance and lowered the bottom bracket to be more in line with most companies' FS offerings. On the very steepest of trails there are a couple of lines that have witnessed some nasty crashes on the hardtail, particularly on techy near vertical drops into tight berms. The smaller back wheel, slightly shorter wheelbase and compression at the back on the FS Ti have made these features instantly more manageable, and dropping the front to 150mm of travel and running a stem 5mm longer than usual has perfectly counteracted the rearward weight-shift of the lower back end. Getting, forward, low and aggressive for corners is still easy thanks to having a steeper head angle than the recommended 160mm forks would give. The potential downside to lowering the back end is obviously pedal strikes, but thanks to the lack of bob under pressure this hasn't been an issue at all.
Cornering grip is predictable and acceleration out is snappy thanks to the 27.5 out back. I've no fear pushing this bike hard into any situation and the Pikes work very well with the EXT to give a balanced feel. Make no mistake, this is a trail bike, not an EWS bike but it soaks up big impacts without complaint and with minimal feedback into knees and ankles. Granted, I am coming from a hardtail and so any cushioning feels a luxury, but the Ti 9er hardtail also does a superb job of removing chatter so it's not like I've been getting the shit kicked out of me for the last couple of years either.
The Pinkbike article complained of rattling cables and a slapping chain detracting from the impressions of smoothness. Again this must've been a set up issue as I have none of either. The cables are silent and as easy to route as ever with the removable ports, and my standard inner-tube chainstay wrap dulls the noise of inevitable slapping. An hour of proper prep eradicated those potential problems and honestly calls into question the relevance of the original complaint.
The EXT shock does slap and bang where the thin plastic bump stop moves around but I seated it with a blob of grease and it no longer moves. It's a very vocal shock and the slurping of oil movement is definitely noticeable but I quite like the noise of something doing its job well, beats the hell out of creaks and moans from unwanted flex.
The Downsides
The set up was a bit of a pain in the arse and if you're not like me and you don't delight in those hours spent fine-tuning your pride and joy then that'll annoy you. Having said that, other mates of mine have had the same spacing issues on different bikes and so getting the perfect chain guide and chainline set up seems to be a common problem when there are pivots to work around. Super-boost cranks would be an easy solution to the chainring getting close to the swingarm but obviously there may be chainline repercussions.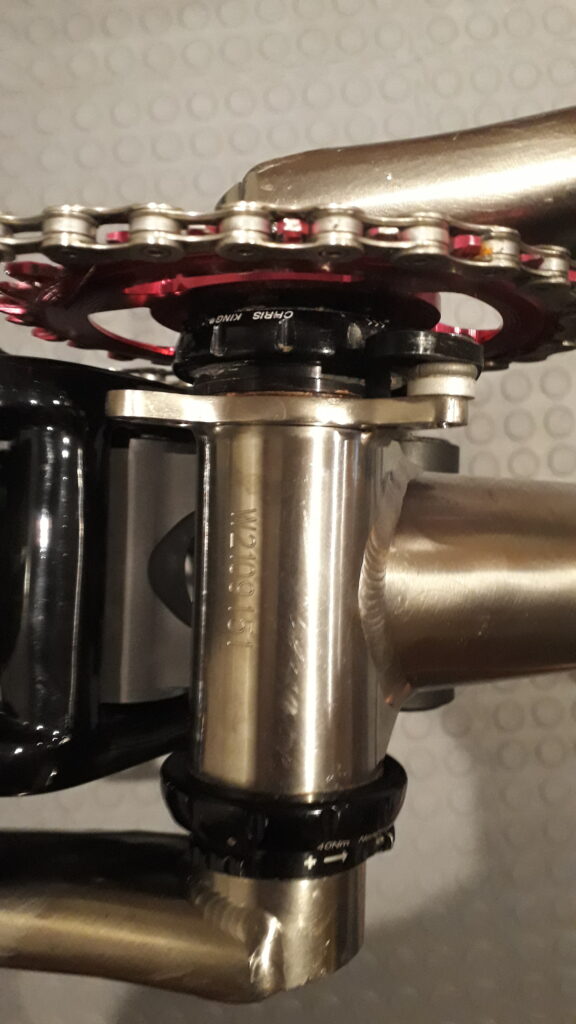 I'm not sure I'd be so excited about this bike without the mullet set up. A combination of a bigger back wheel and the recommended 160mm fork would definitely take some body weight higher than it needs to be and I'd fear that it wouldn't carve into the corners as effectively. Obviously this is pure conjecture without trying but I've created an incredibly nimble, planted and playful machine in its current guise and there's no way I'm going to mess with that. For those who already own this bike, have a crack at sticking a smaller back wheel on and let me know what you think.
As much as other companies make a huge song and dance about geometry altering flip chips allowing straight 29 or mullet on the same frame, the reality is that these changes are very minimal. It's seemingly by chance but Stanton have created a perfectly mulletable bike without the need to mess with it.
Long-term impressions are yet to be formed, with only a couple of months on the FS Ti I can't comment on the longevity of bearings and pivots. They have however been exposed to the Irish Winter and the power hose on numerous occasions and so far no creaks or stickiness. Us Irish and UK riders should all be adept at the stripping and greasing of bearings anyway, I'll be happy if they make it to the Summer before I have to do a full service.
As you've probably gathered, my early impressions are pretty much universally positive, I'm faster, smoother and even smiling more. Long-term article to come after a few more months here and some time in Sierra Nevada and Morzine.
And So…
Is it the best bike in the world? No, it's not. Because no bike is the best bike in the world due to the hugely diverse wishes of riders. The fact that it has no pedal assist rules it out for over 50% of modern mountain bikers, and the cost will rule it out for another 49%. So in the niche within a niche of riders who will drop £10k on a battery-free mountain bike can it compete? Unequivocally yes. I've ridden a lot of bikes in the last thirty years, including the finest offerings from the most respected of brands and this is by a long stretch the best ever.
It's not a straight-line boulder swallower but in the hands of a rider with a touch of finesse it has no tangible limits. It descends, corners and climbs with a combination of purpose and fun, particularly with the mullet set up (I've not ridden it full 29 for comparison and probably never will). I LOVE riding mountain bikes, and yet somehow this machine has added an extra dimension, a wider smile and a stronger desire to wrap up and get out into the teeth of whatever mother nature delivers. For the type of riding that I do, fast up, fast down, with an emphasis on liveliness when things get tight I really can't see how the 9er FS Ti could be surpassed.
And as a final note you can't discount the impact of the aesthetics. Skinny Ti tubes and a raw carbon swingarm may not be everyone's cup of tea but they're an unbelievable head turner. Amongst most companies' identikit carbon swoopiness that is just starting to look a bit dated to me, the Stanton stands out like a shining beacon. No gimmicks, no bullshit down tube storage (sorry, I just don't get it), just the very best of materials joined with jaw-dropping weld and machining standards. Stanton are back from the dead, and with a bike this good in their line up the industry should delight in their resurrection. Enough words, I'm off riding.
And a final, final note. Key learning for me, when it comes to reviews is don't believe the hype. Even the best reviewers are operating subjectively, including myself, and so the only voice you should ever really trust is your own. Seek out a test ride, go shred and share some of my smiles, you'll not be disappointed!
Big thanks to Stanton Bikes for producing this bad boy and for their ongoing support. The lack of pressure they put on me allows me to remain 100% impartial. By way of transparency this frame was pretty much given to me but if I didn't like it then I'd have reported that back to them rather than doing any kind of review. Also to Chris Porter at Mojo Rising for the candid advice, refreshingly honest and straightforward.
Feel free to drop me a line with any questions and I'll see you all on the trails.