I love living in Northern Ireland, the people are friendly and the trails are superb, but it can be a melting pot for extreme viewpoints, from individuals who otherwise appear moderate.  A few years back I was surprised to discover how many here take a literal reading to religious doctrine, firmly believing that Earth is a mere handful of thousand years old, shunning accepted theories of Darwinism and genuinely contesting that one busy week for their deity was enough to create all we see.  These Creationists have infiltrated the upper-strata of society in worryingly prominent positions of influence, despite the alarming lack of evidence for their belief structure.
I think they need to swing a leg over the Stanton Switch9er Titanium…
Evolution Over Revolution
Stanton Bikes are certainly advocates of evolution over revolution, with a range of machines that has incrementally expanded and adapted through minor adjustment rather than wholesale change since the companies' inception almost a decade ago.  'Hardcore Hardtail' to the core, they've reflected the industry in terms of wheel-size growth, but regardless of the supposed attributes and failings of each particular rim diameter, they've strived to generate the same ride qualities throughout, with a primary focus on fun.  As Dan Stanton recently said to me, 'just because someone is 6ft 5″ tall and on 29″ wheels, doesn't mean their ride shouldn't have pop'.  As a dedicated lover of the big wheels, who am I to argue with that?
Hands up time, I was an original hater.  The luddite in me, with 20+ years of 26″ wheel thrashing already under my belt was quick to decry the appearance of those early wagon wheelers.  Haters are always gonna hate (hate, hate, hate) but the problem arises when personal experience massively contradicts preconceptions and prejudices.  Within half an hour of my first 29'er experience, on a cheap Specialized hire bike, riding the most technical trails I'd ever encountered, I was sold.  The constant drop-offs and step-ups of Palmer Park, Colorado Springs were gobbled up by the supposedly unwieldy 29″ wheels, allowing a flow through terrain that'd have been stuttering at best on more familiar machines.  The death-knell of 26″ (and 650b) was deafeningly rung the following day whilst hanging with my ex-professional racer guide on an incredible 40km descent from the summit of Pikes Peak.  Through all types of terrain, including a 300m vertical-drop section comprised entirely of tight, cliff-edge switchbacks, the Specialized blew away my expectations, breezing through terrain that should've supposedly exposed its limitations.  Tail firmly between legs, I was ready to accept the inevitability of the revolution, a seismic shift in bike technology that'd dramatically change the path of all future purchasing decisions.
But whilst I was ready to accept the truth, the industry as a whole still seemed set on pigeon-holing the 29'er within the niche XC market, playing it safe in the knowledge that larger wheels definitely roll better but ignoring the further potential.  Initial efforts from most manufacturers were, to be brutally honest, a bit shit.  Recognising the need to acknowledge the new advances but seemingly unwilling to invest in R&D, they hedged their bets and simply shoehorned the expanded hoops into existing models.  Aesthetically disturbing, barge-like in length, those early Franken-bikes damaged the reputation of 29'ers so badly that many riders are still unwilling to entertain the idea of trying one even now.  It was time for the evolutionists to step in, visionaries who took the engineering challenges head on, firm in their beliefs that the 29'er could become the alpha-male of the biking kingdom.  Step up to the plate Dan Stanton and the Switch 9er.
This is the third big-wheeled hardtail that I've owned.  Commencing with the Ragley Bigwig (fun but flexy) and followed by the Stanton Sherpa (great, but a touch conservative for my needs), the Switch9er, on paper, is the machine I've been crying out for.  I'm a demanding consumer with a taste for perfection developed through three decades of shameful excess in two-wheeled expenditure.  Style wise, I've been pigeonholed alongside the 'Enduro' crowd, seeking downhill capability above other attributes, but the old-school Cross Country head in me demands climbing prowess, and anything less than impeccability in manufacturing standards is unacceptable.  So how has the Stanton Switch9er Ti addressed these needs?
Let's talk welds first.  This frame screams precision.  Exquisite fishscales throughout, unblemished uniformity.  You'd expect nothing less for £1850 but how come no other frameset I've ever seen (with the exception of my Sherpa) attains these standards?  In-fact, there are some companies who seemingly ignore this facet of production, charging eye-watering amounts for welds that belong on trailers and gates, not top-end mountain bikes.  The plastic-frame proliferation has hidden craftsmanship from plain view in recent years, with aesthetic parity achieved by illegal Chinese knock-offs, but when it comes to metallurgical processing, companies still have to bare-all, their values and ethos right there for all to see.  Stanton only accept the best, and with a 0% failure rate on all 2nd Generation frames ever sold, I'm confident that my limitations will appear long before the 9'ers.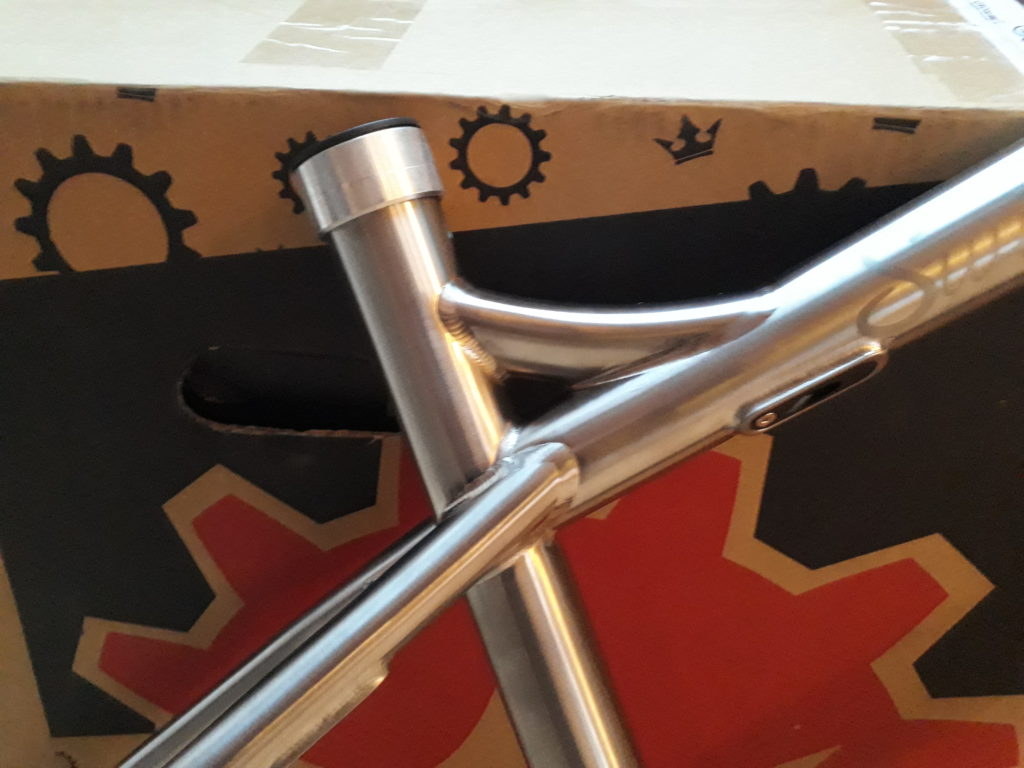 This striking attention to detail continues throughout, from the classy head-badge, the subtle graphics, down to the CNC machined yoke and bombproof dropouts.  Building this bike up was a dream, no niggly issues with mis-alignments, tricky cable routing or any of the other issues that so often blight the process.  Ready to ride in a matter of hours, despite my OCD-like approach to torque settings and hose lengths.  Tyres digitally checked, time to put expectations to the sword.
The Ride
Those first few car park pedal strokes are essentially irrelevant, and yet first impressions so often linger.  I was grinning before I'd even taken the first 90 degree left hander round the outside of my house, en-route to throwing the Stanton in the van.  Acceleration is instant, the snappiness generated by minimal-length, 428mm chainstays, facilitated by the painfully obvious solution of a curved seat-tube, mirroring the shape of the back wheel, leaving plenty of room for 40mm rims and 2.3″ tyres.  The yoke, ingenious and beautiful in equal measures, sits behind the bottom-bracket shell, providing ample room for chunky rubber (including 27+ if you're that way inclined) whilst also giving heaps to spare for the very worst of the Irish slop.
The wheelbase litmus test is provided by the internal dimensions of my VW Caddy Maxi van.  For stability, I'd like my bike to fill the length of the load-space, but for sharp-handling, I don't want to have to remove a wheel.  The Switch 9er fits, just!  The big wheels and 65.5 degree head angle providing a 1203mm length (16″ frame) that allows the boot to close with mm to spare.  I did briefly own a Santa Cruz Nomad CC that shared this attribute, but that bike's smaller wheels and longer frame handled like an ocean liner, the clearest ever demonstration of hype over performance I've experienced.  Luckily, when it comes to hardtails, Dan Stanton rightly points out that a long front-centre is a hindrance to handling capabilities, flying in the face of some companies who wrongly believe that longer is always better, fashion over function.
Super-slack head angles are another recent(ish) development in general frame design, with predictability and poise through steep technical ground provided by raked out forks.  The Switch9er mirrors this, giving that mildly disconcerting flip-flop front end whilst static or moving slowly.  However, once up to speed, all clicks into place and the capabilities of the frame are instantly apparent when gravity assisted.  Very surprisingly, I've noticed no detriment to climbing prowess, even in steep, technical terrain, despite me jacking up the front end to extremes with the headset spacers, preferring to test the outer-limits of set-up before fine tuning down to perfect ride height.  The Switch9er out-climbs my Sherpa, despite the latter being marketed as the 'trail bike', the lighter weight of the titanium 9'er as opposed to the steel Sherpa possibly being the reason.  The front end does try to lift when it gets super-steep but it's only that slightly annoying 'click' of the Pikes extending a couple of millimetres rather than any difficulties controlling the front wheel that make it noticeable, proper weight-distribution counteracts any potential wandering.
Mythical Ride Qualities
Titanium was the mythical wonder-material during my formative mountain biking years.  Exclusive and eye-wateringly expensive, it was the stuff of pipe dreams, with companies like Litespeed and Merlin turning out works of art that magazine editors gushed over and my teenage self longed for, but knew would unlikely ever be mine.  Over the ensuing decades, suspension, carbon and mass-production have overwhelmed the market, but that desire to experience and own those qualities never waned, all through my thirty year, two-wheeled apprenticeship.  Titanium is inherently lightweight and predictably forgiving, perfect for a bike frame but also notoriously expensive and tricky to work with.  As a result, prices will always be inhibitively high, and justification for purchase difficult, although at least with the Switch9er there is currently no steel alternative weighing in over a grand cheaper, unlike the other models in the Stanton range.  No doubt a steel version may well be on the way allowing you to wait it out or buy now depending on your tendencies.
Is there a noticeable difference from the industry-leading Reynolds steel tubing of the Sherpa I've just ditched?  The simple answer is possibly!  The 9er feels more planted, more able to dull the impact of drops to the concrete-hard perma-frozen trails of recent weeks.  Acceleration is definitely sharper and as mentioned, climbing feels better.  At this stage, it's too early to tell really but I'm enjoying this bike a lot more, probably 90% due to the dimensions and 10% the materials.  Will it ever justify being near three times more expensive than the Sherpa?  Of course not, but a bike three times better than the Sherpa will simply never exist.  Two grand hardtail frames will never enter the realms of 'need', but for myself (and to appease my teenage self) the 'want' was overwhelmingly strong.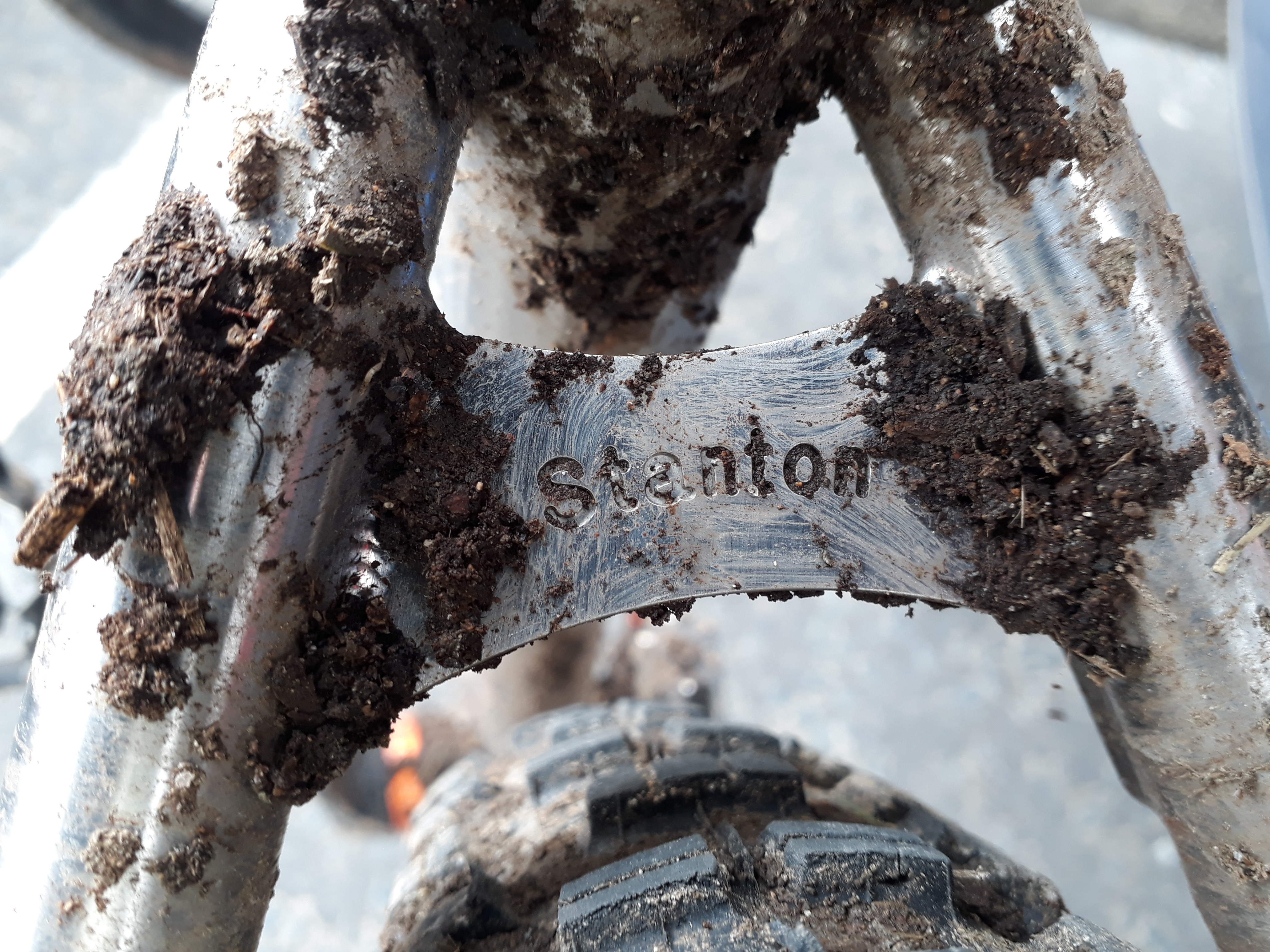 Never Mind The Bollocks, How Does It Actually Ride?
This is just a first-impressions article, an appetite whetter for the many people who've dropped me a line since the You-Tube build edits.  I've only ridden the 9er a handful of times but already I know this.
It's the best hardtail I've ever ridden.  And we're talking a different league entirely.  Uphill, downhill, in corners, floating over the tech, everywhere.  I'm going to be looking extremely hard but as yet there haven't been any hints at anywhere that it doesn't genuinely excel.
Forget all you know/have heard about 29'ers lacking feel.  If I could somehow blindfold you and keep you unaware of the size of the hoops until you were piloting this bike, you'd only notice that you were travelling faster than ever before.  It wants to be hopped, chucked, thrown, abused, attacked.  All the benefits, none of the downsides, and I'd be the first to admit that as much as I love 29'ers, they do generally sacrifice playfulness for outright speed.
The dimensions are as close to perfect for our tight, techy trails as anything I've ridden.  Long enough to be stable in high-speed chop but able to nip between the trees and rapidly change direction as so often required here.  It loves being pointed down rocky chutes and off-camber roots but also laps up the fire-road ascents.
It addresses the 'weaknesses' I found in the Sherpa.  I took liberties with my last Stanton, setting it up in a manner unbefitting to a supposed 'trail' bike.  The 140mm forks (as opposed to the recommended 100-120mm) artificially raised the bottom bracket, resulting in a slightly top-heavy feeling when rapidly switching between corners, an inability to achieve that wonderful sensation of carving, when your centre of gravity drops right into a bend.  This bike is designed around my preferred fork length and so all has fallen into place.
It's silent.  And that's really important to me.  If those internal cables and hoses had rattled then that would be a deal breaker for me but there's no noise at all, particularly with my favoured inner tube wrap on the chainstay.  The threaded bottom bracket shell will also prove vital in this regard.
It looks incredible.  And I've never quite previously warmed to the aesthetics of bikes that sometimes appear to be 'all-wheels'.  Does this impact on the ride?  Well to me, yes it does, that overall feel good factor that draws my eyes repeatedly back to it whenever we've stopped is a vital part of the whole experience.  I've owned ugly bikes, and somehow it just prevents that wonderful symbiosis developing between the living and the inanimate.
What Next?
I'm about to go and ride it again now, and again tomorrow.  Next week will see the 9er's inaugural race experience and in four weeks it'll be accompanying me on the annual Finale Ligure pilgrimage.  Following that I should have some more concrete impressions to share.
The first batch of these frames sold out on pre-order before they even existed.  Clearly there were others who'd pieced together the scant degree of information emanating from Stanton themselves and were suitably excited to drop a sizeable pile of loot.  The birth of the first Stanton suspension frame has been grabbing all the headlines and sponging up their limited marketing time.  Personally I'm delighted to be riding for a company that can release what appears to be one of the greatest hardtails in history, but are too busy designing, testing and engineering to even have the details on their website until months after the first production quality model was being ridden.  You could call that criminally unprofessional, but in a world where some others value hype over substance, releasing the adverts and t-shirts before fine-tuning the product, I find it unbelievably refreshing.
The next batch will be available around June 2018.  Place your orders at Stanton Bikes.
For more details check out www.rockandrideoutdoors.com for my contact information and I'll fill you in on anything you'd like to know.
Postscript
So I wrote this two weeks ago but have been too busy to get round to adding the pics and posting it.  The Switch9er's first race was a massive success, slaying the rest of the hardtail field, 30 seconds clear of second place.  Round one of the Vitus Northern Irish Enduro series was a total mix of terrain, from man-made wheel-destroying rock gardens, to foot deep slop and pedal trimming gulley lines created by the recent deluges, and the ride was unbelievable throughout.  I'd only turned up for the craic, having focused all my energy on qualifying for the Irish squad for the World Long-Distance Mountain Running Champs at the trial race the day before.  Needless to say, a day that included a 16 mile sprint fell race, four hours of driving and an evening's practice round the enduro trails left the legs a bit flat.  Not to worry, once up to speed, the 9er just carried it through, maintaining pace over obstacles that'd required a hefty dose of brake dabbing to survive on all previous attempts.  29'ers have always carried speed well, this bike ups it to a whole new level.  Roll on Finale in three weeks where it'll encounter dust for the first time!  Keep an eye out for the next report.