F*ck, f***********ck screamed Brian, hurling his bike into the dust, the naked spindle of his SPD staring back up at him where the pedal body should've been.  Instinctively I began to run down the steep, rooty trail, sensing that this was a pivotal moment in our attempt with morale and motivation hanging in the balance.  The pedal part was easy to locate and not for the first time I thanked my running fitness as I jogged back up to my beleaguered friend.  The mood lightened fleetingly until we realised that hand tightening was insufficient and we'd no sensible option but to drop all the way back to Courmayeur for repairs.  From this point onwards we'd be racing the darkness back to Chamonix.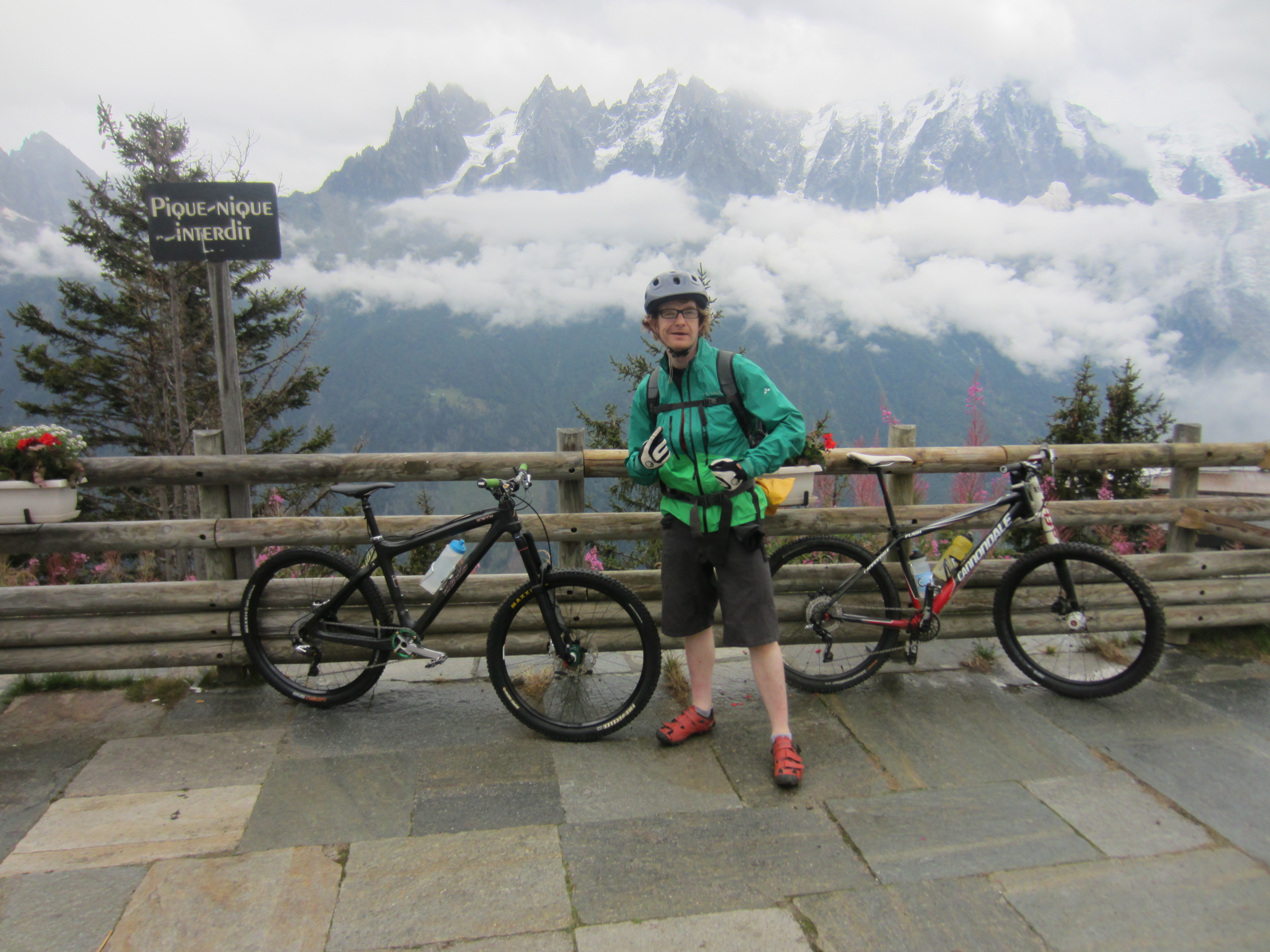 Rewind 27 years and at age ten I'd just completed the walking version of the Tour of Mont Blanc, a stunning 170km ish circumnavigation of Western Europe's highest mountain.  It was one of those truly formative experiences, accompanied by my Dad, that is still indelibly printed on my psyche even after nearly three decades of systematic brain cell destruction. The sheer inspiration of the Alpine environment has since prompted numerous returns for various reasons and it had become an annual ritual to voice my desire to one day ride around the TMB route.  This year I finally set off to realise that ambition with little more planning than booking a flight, e-mailing a mate with a chalet in Chamonix, enlisting my teammate Brian and borrowing a map two days before we left.
Take One
It was 3:30am on a dismal Dublin night when we dragged our bleary-eyed selves into the deluge outside, throwing our gear in the van and heading for the airport.  All went pretty smoothly, Brian laughing as the gun shaped pump in my bag caused a brief security issue, me cracking up when he realised he'd left all his c02 canisters in his hand luggage!  Bikes arrived safely and the slick Geneva to Chamonix transfer system deposited us outside Neil's apartment just a couple of hours after landing, chomping at the bit to assemble bikes, squeeze kit in bags and hit the trails.  We were well aware of the weather forecast having studied it feverishly for the previous week but it's amazing how enthusiasm trumps reason, particularly when time is limited and the Alpine singletrack is calling.  We grabbed the Brevent telepherique out of town, keen to rapidly get up high and at 4pm rolled out into the mist.  That particular section to the Col Des Montets is one that I've familiarised myself with in the past through walking, running and biking.  It's a superb trail; rooty, twisty and in places dizzyingly committing with jagged cliffs just inches from the riding line.  As the inevitable rain gradually worsened, grip lessened and weariness started to kick in and we were both making potentially dangerous errors with fine margins between cleaning sections and washing out the front wheel over the edge.  Missing a key junction in the fog resulted in a fairly epic three hours of hike a bike with our now saturated kit offering little protection from the plummeting temperatures and it was with a relieved cheer that we finally hit the road.  Faced with a choice of a wet bivouac and more of the same the following day or pizza and beer back at Neil's we obviously sprinted down the valley, bodies regaining feeling as we hammered out the miles, water blindingly spraying us as we followed the flow of the surface river.
Monday passed pleasantly with kit dried and then re-packed even more sparingly.  Having decided to maximise our flexibility by sleeping out rather than using the plentiful refuges we needed to carry a hefty load on our backs.  All non-essentials were jettisoned and I even created enough space to squeeze in Neil's tiny Thermarest, a decision that later may have saved my life!  We gleefully carb-loaded and set the alarm for a first light start at attempt number two.
Take Two
The moisture was still evaporating up off the road as we span up the valley at dawn, stuffing pastries into our faces in preparation for the calorie destruction that was to come.  Having already ridden the off-road version of this section we settled for spinning up to Le Tour on the asphalt, allowing us some heartening early mileage and a chance to ease into the gradient more gradually.  That pleasant reintroduction hastily ended beyond the telepherique station and a ninety minute hike-a-bike commenced, mostly pushing the wrong way up the bike park trails safe in the knowledge that we were the only bikers daft enough to be out at that hour.  Our disappointment at the closed cafe at the Col de Balme was extremely short lived as we plunged down the far side of the hill over the Swiss border.  The trail was incredible, initially sweeping round fast corners with the stunning vista of the new valley laid out ahead of us, before diving steeply into the trees, rocks clanging loudly off down tubes and grins as wide as the track. It was still early when we span up the short climb to the Col de la Forclaz and bought an extortionately priced coffee at the top.
The Great Swiss Rip-Off
I'd extremely fond memories of the next section from the walking tour.  I remembered the 'Bovine' route as a pleasant rolling trail and the description of it we'd ripped out of the guide to the Mont Blanc Ultra running race seemed to re-iterate that fact.  Maybe that false sense of security made every rise a bit more of a smack in the face but ultimately this part was the only one where I had to throw the bike on my back for any length of time.  The satisfaction of passing shocked looking walking tour groups whilst heavily laden was tempered by the awkwardness of trying not to hit them over the edge with my wheels.  Obviously the upside of all this unexpected ascent was a bonus 30mph tear down to the painfully picturesque lakeside village of Champex. We were pleased, very smug in fact.  We'd already covered a hefty distance and felt we deserved a wholesome lunch.  Eateries were surprisingly few on the ground and the one we did find was generously offering a straight Euro for Swiss Franc conversion rate making a burger cost 26 Euros.  Clif Bars and peanuts duly scoffed we broke for the Italian border!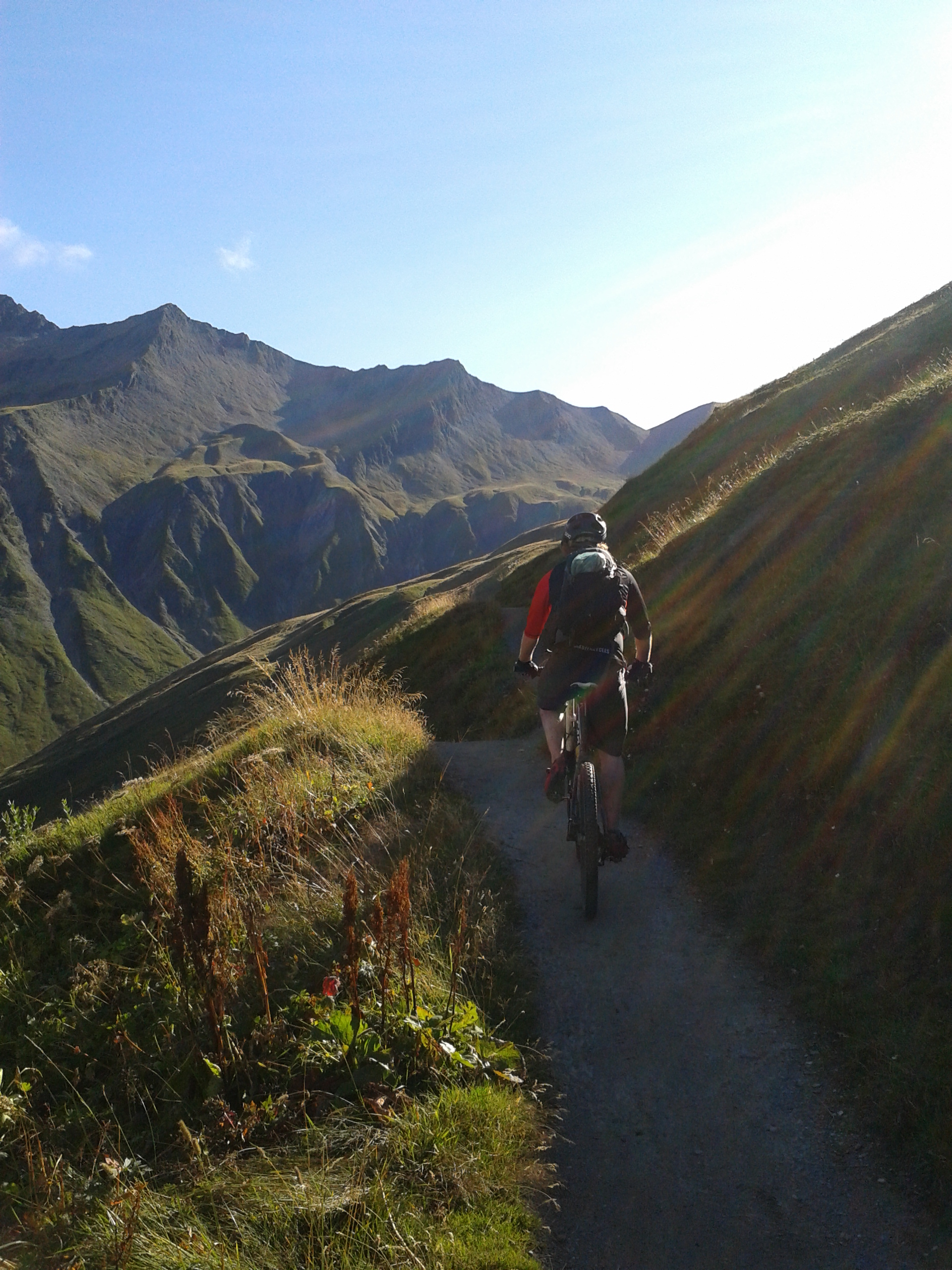 The sun was high in the sky and we chatted happily, the delight of moving through stunning mountain territory enhanced by the incredible quality of the terrain and the amiable company.  Maybe we relaxed too much and switched off mentally but a decision to temporarily deviate from the marked route to stay on a well paved section towards the Grand Col Ferret cost us dear.  As we ground our way up towards the head of the valley it became increasingly apparent that the supposedly simple short cut back to the TMB route would actually be steep, treacherous and entirely unrideable.  We plugged on, neither wanting to acknowledge the obvious fact until we could remain in denial no longer.  A grim faced summit meeting confirmed the clear conclusion and ten minutes of angry descent later we regained the route at the spot we'd passed over an hour before.  Despite the obvious setback we were still a contented pair as we dangled our legs over the veranda at La Peule, the final refuge on the epic ascent back to Italy.  The sun was dipping and a chill was descending in the crisp air but we still felt strong after nine hours in the saddle and knew we would comfortably crest the high point before dropping elevation and seeking a spot to set up camp.  Moods were further enhanced by the discovery that the majority of the remaining ascent was rideable, a smooth track carved into the mountainside.  A brief conversation with a Canadian who was walking the tour with his two young kids sent me into a spiral of nostalgia and not for the first time in my life I silently thanked my Dad for setting me on this path of life.
The descent into Italy was steep and rutted, great fun to ride but with lengthening shadows creeping over the valley, finding a suitable bivi spot became priority.  Brian had never sampled the delights of sleeping under the stars before and so I was keen for a spectacular mountain outlook.  With hindsight, despite the proximity of running water and a sheltering wall deflecting the increasing wind, 2200m above sea level was probably a bit high up for comfort.  We finished the twisted remains of baguettes stuffed into any available bag space hours before, lay back and watched shooting stars in a crystal clear sky.
Freezing To Death
It was 3am when I awoke, freezing, really freezing.  Severely limited space had forced us to only pack one season sleeping bags and even with full thermals, a buff, two pairs of socks and a down jacket they were still grossly insufficient for the sub zero temperatures at that altitude.  This external cold was exacerbated by the huge calorie deficit from the day's efforts, I simply didn't have enough energy to create heat.  A night time feast allayed some of the iciness and I lay awake for several hours praying for dawn and feeling greatly relieved at the last minute addition of the Thermarest in my kit.  Unbeknownst to me, Brian was suffering the same predicament and we were equally relieved when the light finally appeared over the hill.
Not many clothes were shed as we recommenced the superb descent towards La Vachey in the early dawn.  Although not openly expressed we shared a subconscious agreement not to suffer another night outside and so there was little argument when we decided to cut out a very long hike a bike and instead stick to the road into Courmayeur.  It would be Chamonix or bust today and the new found time pressure created a more serious atmosphere between us.  Nevertheless by 8am we were rolling into the beautiful Italian town with plenty of kilometres covered, legs defrosting and humour returning.  All seemed to be going according to plan but then the problems started…
The Unmentionable Pedal Debacle!
Initially it was my fault.  I managed to spend an inordinate amount of time in the supermarket trying to find food both calorific and malleable enough to meet our nutrition needs whilst squeezing into the tiny pockets of spare bag space.  We followed this up with some inept urban navigation and so left Courmayeur an hour later than planned in rapidly rising temperatures.  A steep walking section further frazzled our worsening temperaments and then the pedal debacle happened!  I'll not lie, every ounce of me wanted to say 'I told you so' as I'd pointed out the looseness of the SPD collar back in Chamonix but a punch up would've improved our situation none so instead I ran off to find the offending part.  A few deep breaths later and we started to think rationally.  We needed a 17mm spanner, we didn't have one and our best chance was to drop the 400 vertical metres back to the town to find a bike shop.  Subconsciously I slipped into professional bike guide mode at this point, speeding to the high street and frantically seeking the required tool.  Moments of the worst adversity often lead to the most righteous acts of kindness and I'll be eternally grateful to the shop owner who made it his personal mission to get us moving again.  He zipped up and down the tourist laden street until he'd sourced the spanner and with a warm handshake sent us back on our way.
E-Bike W**kers!
We were three hours behind schedule and deviated up the obscenely steep road of Val Veny to claw back some time before rejoining the TMB route at the virtually non-existent Lac de Combal.  Despite climbing for over 15 steep kilometres my legs felt great and the buzz of chasing an unlikely deadline was providing further motivation.  I scoffed some chocolate and waited for Brian before we embarked on the crux of the climb, a steep, loose but rideable access track to the Refuge E. Soldini.  We'd chosen not to modify our bikes at all for our Tour and for the most part a 1×10 drive train had served me well.  Good legs and a 30-36 lowest gear had sufficed on all the realistically doable climbs and the hiking sections would probably have largely still been undertaken on foot even with the smallest of granny rings.  This section was the exception.  The constant gradient conspired with the frustratingly loose surface to make it an epic struggle of power, balance and body position and with the energy sapping sun beating down, it took all we had to keep the wheels spinning.  We could've walked, it would probably had been quicker and certainly less strenuous but we felt obliged to turn the pedals over whenever possible and the admiring glances of walkers provided a much needed boost.  Until the electric bikers arrived.  As we gurned through the hairpins I became aware of a presence just behind me.  Initially I thought Brian had sourced some hitherto unseen energy and was about to turn and congratulate him when a tennis shoe adorned Italian cruised past, not an ounce of sweat on his brow as he swerved round me and sailed on, swiftly followed by his three friends in matching kit and sunglasses.  The unfairness of it all bit at me, there they were on a jolly day trip up to the refuge for a beer, barely having to expend energy to initiate the powerful motors that drove their machines upwards.  In contrast here we were, sweat and dust forming a grimy layer on our contorted faces as we pushed our bodies to the edge of reason, obviously suffering immensely.  My pride turned to shame, the passing hordes knew nothing of the fundamental differences between our machinery and theirs and so to all the world we were the rank amateurs, put to the sword by the oh so stylish experts.  Luckily the trail soon split and levelled and I consoled myself with the knowledge that the reason Britain and Ireland punch above their weight in professional cycling had just been neatly encapsulated in our differing ambitions for the day! It's amazing how exhaustion can fuel casual xenophobia!
All-Time Epic Descents
Another hour of mostly pushing took us to the Col de la Seigne and a descent that will stay in my memory forever.  A rolling, high speed pump track which dipped and rose, twisted over streams, wheels off the surface as much as on the dirt and involuntary whoops filling the air.  This downhill alone made the effort to this point well worth it, it really was that incredible.  Hammering down the road to Les Chapieux we were buoyed by the sense that we were getting back on schedule and after a brief lump of cheese and square of chocolate we embarked on the next huge ascent.  Unfortunately the Col De La Croix du Bonhomme was little to laugh about.  After a short rideable lower section it degenerated into a steep and long push with the added de-motivator of the summit being visible way in the distance.  As a serious mountain runner I actually revel in these type of ascents, finding my customary rhythm and pushing on up without pausing.  I knew that Brian, although in great shape was more bike fit and coupled with his decision to wear the 'disco slippers' that weren't particularly suited to extended walks I knew he'd be suffering.  I kept up my spirits by pausing to chat to passing walkers, relieved to be back in France where my rudimentary language skills could at least facilitate a conversation.  Most of my exchanges went like this.  'Are you staying in the refuge tonight?'.  'No, in Chamonix'.  Long pause and puzzled expression.  'You know how far away that is?!'  'Yes thanks'.  Gallic shake of the head, 'you English are crazy!'.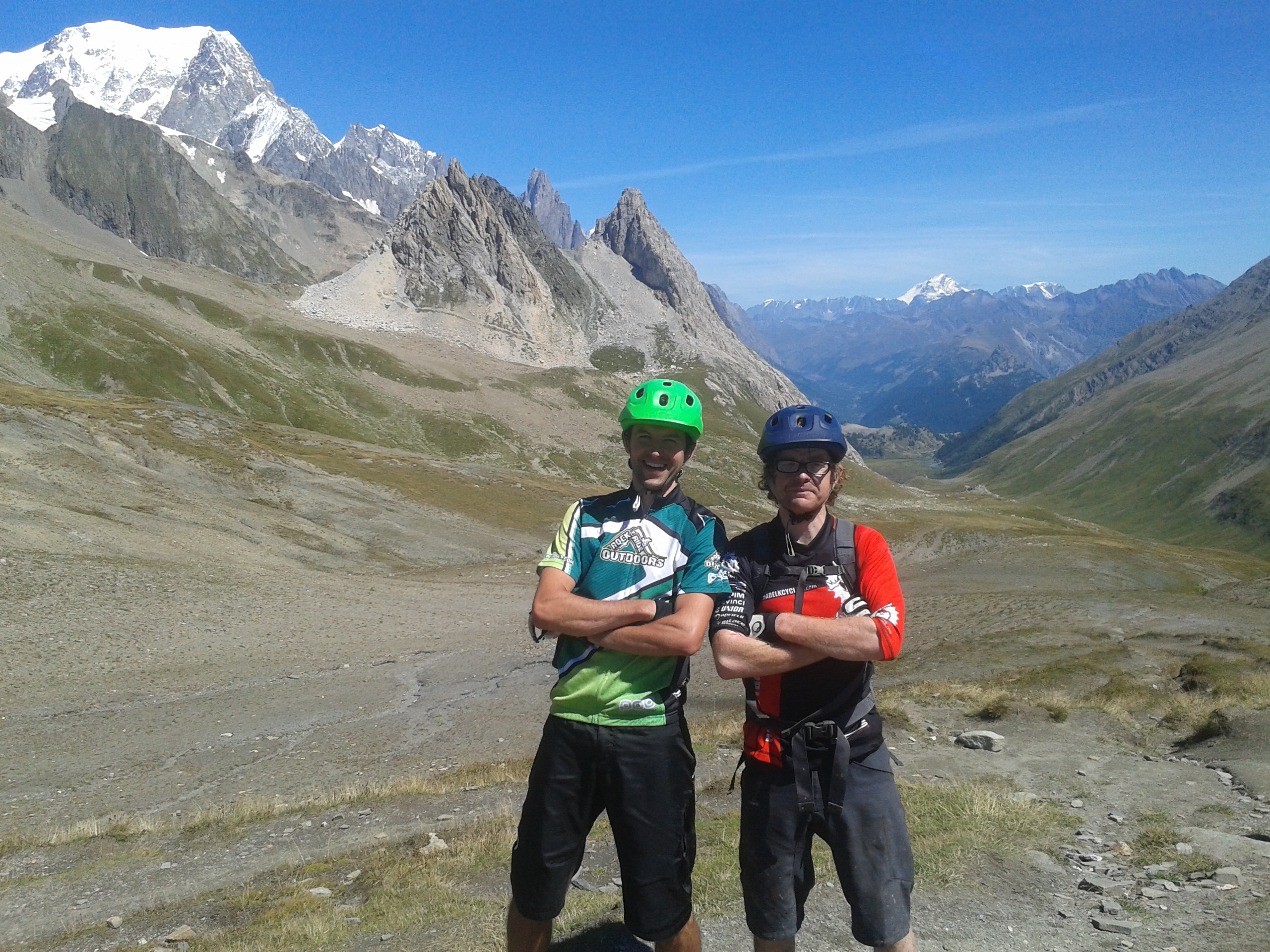 The views from the col were stupendous and we ate our daily pate filled baguettes washed down with huge tomatoes eaten like apples, whilst glorifying in the circumstances that had brought us to that point.  All we wanted now was a speedy, none too technical descent and we'd be confident of reaching our unlikely goal.  Cue a horrendous ridge line section, tantalising us with twenty metres of riding before rounding a corner to another cliff.  Luckily this torture was short lived and once we reached the Col du Bonhomme itself the trail veered on the just rideable side of super-techy.  This proved another massive highlight, steep drop-ins and balancy moves more akin to trials riding at times than downhilling.  I marvelled at the huge diversity of terrain throughout this Grand Tour, truly none of the epic descents were in any way similar, testing the full spectrum of riding abilities whilst remaining almost entirely rideable.  Protecting bikes was as important as preserving bodies as rocks jutted out waiting to snap hangers and rip off mechs.  I managed to roll a loose stone straight through a spoke but for the amount of abuse that trail dished out it was a pretty fair return.
More miles sped by down the valley to Les Contamines, more stunning descending and the town buzzing with the arrival of some of the Mont Blanc Ultra runners who had by now got stuck into their own Tours.  With 'just' the 900m ascent of the Col De Voza to go and possibly a couple of hours of light we allowed ourselves to believe we may be sleeping in the heat of the chalet that night.  The col itself featured some of the steepest roads I've ever seen, but a hazy satisfaction was already overcoming us and coupled with the incredible backdrop of the late evening sun dipping behind jagged peaks we easily found the inspiration to grind it out.  Pausing for a handshake and a handful of Haribo at the top we struck out down the hill for Les Houches.  I never knew that a bike park had been developed on that hillside and so as we spotted the tell-tale black signage I couldn't resist dropping into the man made jump filled chute as opposed to the vehicular access road.  Brian decided wisely that 30 foot gaps at the end of twelve gruelling hours in the saddle was a recipe for disaster and continued down the road.  What I never told him was that a blue trail quickly appeared out of the black and so I tore through some beautiful berms and was able to avoid the death defying features myself.
Hitting the road at dusk we chain ganged it back to Chamonix, spinning back up the road to the chalet as darkness took hold.  We both felt remarkably strong despite the herculean efforts of the day although looking at our 'after' photo on arrival it's clear that we were pretty destroyed!
Post-TMB, Time For Biking!
With a bonus spare day it was only fair to get back on the bikes again the next morning for yet another bout of wonderful Alpine singletrack.  My XTR brake lever finally melted its seals prompting some highly entertaining single brake descending and leaving me once again relieved and delighted at how well our respective bikes had held up against a brutal trail onslaught.  Bikes stripped, bags packed and time for a beer and a marathon ping pong session before a very well earned sleep and an early return to Dublin.
So how good was biking the TMB?  In short, it was everything I'd hoped and imagined it would be in all those years of not getting my act together.  A two-day assault was very demanding but with perfect weather and the right balance of fitness, riding ability and motivation it's totally doable.  Despite our couple of stupid errors the navigation is actually easy and there's definitely no need to be guided if you're generally at all capable of being self-sufficient in the hills.  However, these are big mountains and the dangers are very real. We had an inspiring but extremely uncomfortable night out.  My recommendations would definitely be to ride it clockwise, carry plenty of clothing, spare food, tools and bike bits and use the refuges for warmth, comfort and a great big hot feed.  We rode hardtails and as ever my Ibis Tranny excelled, I think it's a better choice than taking a bigger bike due to the necessary amount of pushing and carrying.  Choosing your riding partners wisely is essential to keep the harmony.  Myself and Brian share the same fitness levels, grim determination and dry humour and it worked perfectly to get us through a couple of low moments… just!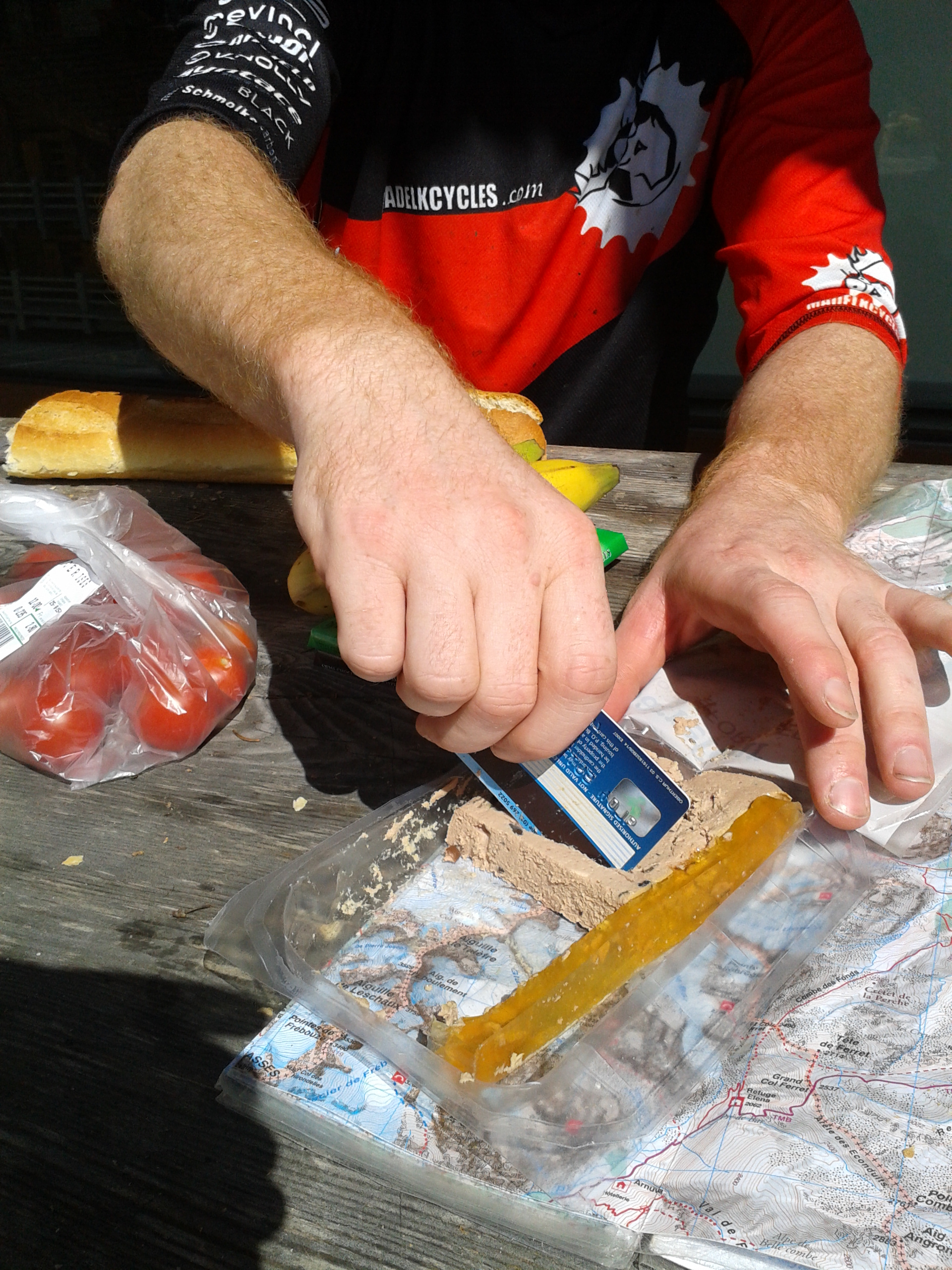 Is this what they mean by 'credit card touring?!