Impending Gloom
Thank Christ my legs felt good, spinning a steady tempo as the sweat wept from my brow, gradually forming blobs that dripped down the inside of sunglass lenses. This climb over half an hour old by now, definitely getting older by the minute. Redundant phone, no GPS signal and a trail 'map' that was an abstract masterpiece lacking essential detail. This ascent should apparently top out at Champoussin at 1580m but the Garmin altimeter had clicked way beyond that, the relief of reaching the peak tempered by the uneasy impression that dropping down the far side would guarantee more pain. Wind rushing through vents and carving asphalt hairpins, furrowed brow and sense of impending gloom, reaching a set of chalets, Swiss flags and the bitter sweet smell of Alpine goat. Finally some signage, the 'Passportes du Soleil' markers I'd been intermittently following all day, pointed directly back the way I'd just come. No pauses, 180 degree turn and powering back up the road just descended, driven by rage. Fuck the map, fuck the useless signage and fuck Switzerland, I thought this place was meant to be well organised?
Best Laid Plans
It was undeniably a great idea; the linking of all of the bike parks in the Portes du Soleil in the style of the Passportes event and a pilgrimage to the Champery World Cup DH track thrown in, following the footsteps of Danny Hart's famous moment of genius. Estimates of a distance between seventy and a hundred miles and elevation gain somewhere way beyond an Everest, success would require connected logistics, rapid descending and a slice of luck, but the vast majority of climbing would be handled by the superb network of lifts.
The intended 9am first ascent was almost achieved, freewheeling down from our idyllic campsite with the first rays hitting the valley and a stomach full of pastry. Jumping on to the huge Chavannes lift, watching my Stanton Switch 9er Ti dangling from the chair in front, bobbing over the pylons and swinging in the light morning breeze. The map was consulted again despite familiarity, and the fizzy-bellied anticipation of exploration swept through me. Section one was easy, skipping free from the comfort of padded leather seats and straight on to the waiting bike, a few revs, hop the gulley and then accelerate towards a twenty foot tabletop, the first of many; cased landing, also the first of many, some work required there. A montage of bermed corners, way over head height, brake early and release, fight the physics as invisible forces push weight backwards, and then power towards the next. Warp speed straight-lining down snow starved pistes, clouds of dust and rattled forearms, into Morzine as it awoke from slumber and straight through the other side.
Frustrating Waits
The Supermorzine lift queue was a bit of a pisser. Bleary-eyed warriors stretching out the previous night's excesses as they wheeled DH sleds gradually towards the bubble cabins. My legs were twitching, nervousness and frustration, a half hour wait not factored into the equation but it dissipated as the climb began, swooping upwards above a stunning looking road, a challenge for another day. The anticipated further snag-up at the Zore chairlift never materialised and a rapid dispatch to the summit was gratefully received. The descent towards Lindarets is a peach, old school singletrack with the odd crafted corner thrown in, just enough sprint climbing to shock the heart into action, grabbing at lungfuls of the purest air. Alone and silent, but for the skittering of tyres and the tune in my head, sheer contentment, I was born for this stuff.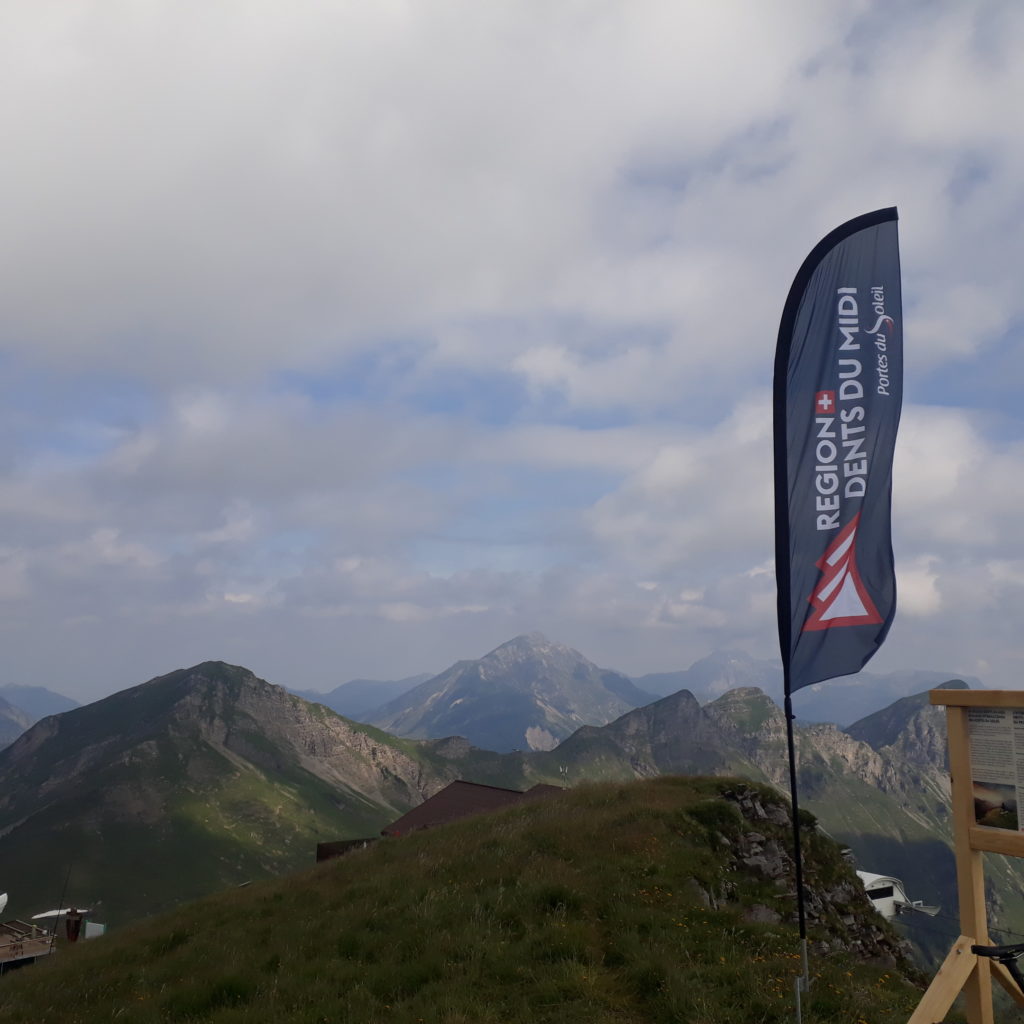 Skipping the Border
The Mossettes lift marked the commencing of new adventure, landscape hardening somehow and air carrying a notable bite as I ascended to 2277m and the Swiss border. Views were immense as was the initial drop from the Pointe Des Mossettes, moguls of dirt into dark soiled corners, slightly more natural and unpredictable than the bike-park berms. The transition over national frontiers had been seamless, no doubt an indication of frictionless movement for dicks like Farage and Johnson, but I carried just half a bag of smuggled French Haribo, not millions of tons of freighted farm animal. Contouring and descending on gravel roads, I hoped to pinpoint the Croix de Culet and the top of the Champery telepherique but according to the signage neither existed, and instead it was a winding and non-technical drop into the town itself.
On holiday last year, with a couple of spare days, my wife booked us an amazing apartment in Chambery. Unfortunately I mistook it for Champery and was surprised to find sweltering urban France rather than a Swiss ski town, so this pilgrimage felt twelve-months overdue. Champery itself is pleasant enough but focus was purely on the lift timetable, in the hope of an imminent departure. Being a cable car means it runs to a set schedule rather than the constant flow of the chairlifts and unfortunately it'd just unloaded as I arrived, meaning maximum dawdling. Time was passed munching a meagre lunch of a cereal bar as increasing numbers of tourists were uncomfortably squeezed into the rapidly diminishing space. Extracted once more from a Norwegian armpit it felt great just to be moving again, especially once the 'DH Coupe De Monde' sign was spotted, time to drop in and flow.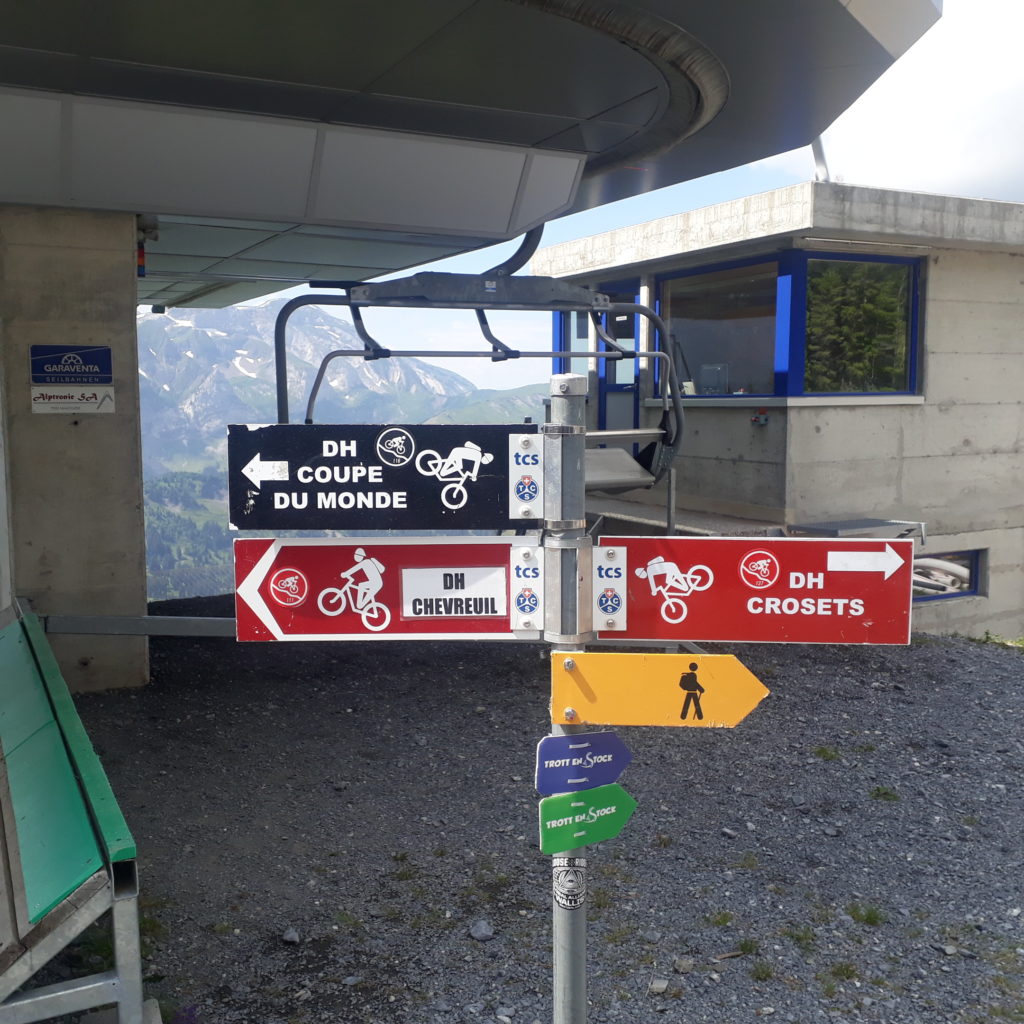 Danny Hart's Balls
There was a strange familiarity to the trail, numerous YouTube views prepping me for the tightness and rapidfire prevalence of the bobsled-run corners, but the gradient could never be fully exhibited in two-dimensions. It wasn't particularly tricky to ride, even with a damp surface providing little purchase, last night's rain refusing to evaporate through the overhanging foliage, but without previous days of mental preparation the steepness would've been daunting. Some English lads I'd met at the top who (like everybody else) raised eyebrows once they saw my hardtail, managed to have a multiple tree pile-up, but for myself the Maxxis stayed rubber side down, even over the drop-in line that Rob Warner 'wouldn't have hit in the wet'. Skidding through the bottom section to the trail end brought relief to beleaguered forearms, no huge whips for me, just contentment at a job well done and delight at survival. Now time to get back on track.
Xenophobia
This was where it all unwound, over the protracted grind up the wrong col in search of Morgins. Road signs, none. Trail signs, none. Precisely none of the names matched my trail map and so I had to follow the general direction indicated. Phone in one hand hoping for GPS signal, bars gripped tightly in the other, eventually the Samsung was pocketed as any other visible options failed to materialise. Lack of proper maps may be poor planning but a lack of signage was a huge surprise, particularly compared to the French side where marking is so complete. Mild xenophobia and a darkening mindset, cursing the Swiss and their inadequacies. Ultimately returning to town and heading the only other available direction still failed to solve the problem, offering a lengthy transition to Val-d-Illiez and no word of my preferred destinations. No doubt, in a car I'd have ploughed on, with all rapidly becoming clear, but with fifty miles and that brutal climb in the legs, more decisive action was required, time to re-trace steps and amend plans. Back to the chairlift and time to queue once more.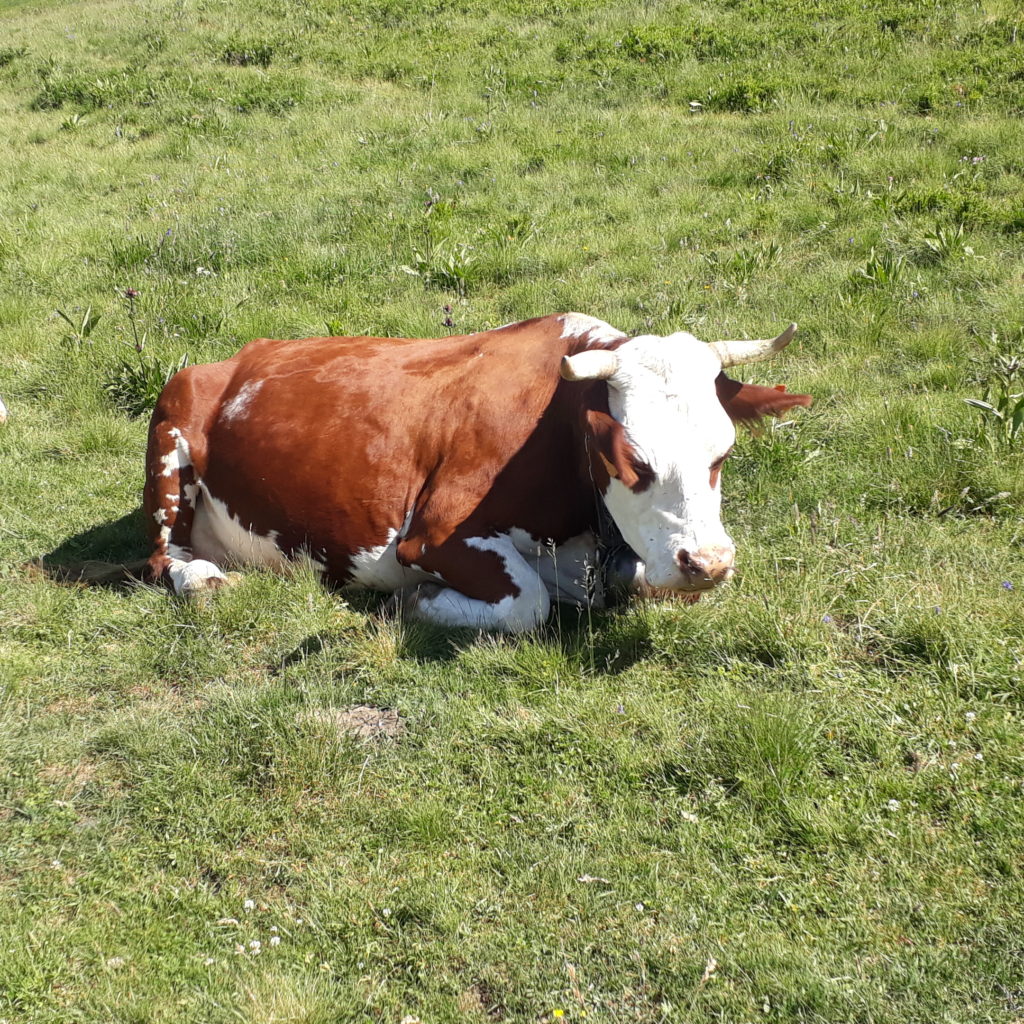 Classic Errors
Already into the mid-afternoon and at the furthest possible point from home, anxiety rose over the potential to miss last lifts. Being stuck in the wrong valley is a classic Alpine error, faced with a huge climb or lengthy circumnavigation back to base. Fancying neither, the coming two hours garnered a ramping in significance, it was time to get a shift on. If the return trails weren't favourable then there could be trouble ahead, but fortunately they came up trumps with a winding serpentine classic from the border, segregated from walkers and free to hammer. Stress dissipated along with pace pressures, allowing the intended visit to Chatel's selection of magic blacks.
Relaxed once more, and a little too laid back as it was, foolishly recreating the time-strains by playing amongst the roots and drops a half hour too long. The sprint finish was back on with the realisation that wriggle room had evaporated, a mechanical would undeniably spell doom. Up from Les Lindarets to the futuristic outpost of Avoriaz, cliff-edge hotels like spacecraft, jutting towards the sky and seemingly all but abandoned during the summer months. Joining a train of rapid riders and swooping and whooping to Serraussaix, a green trail unexpectedly forming one of the highlights, builders at the height of their game, creating joy for beginners and experts alike. 180bpm on the heart rate monitor, full gas up the short ramp to Da Trail, Morzine's finest, dropping in, no stopping, and feeding straight to the incredible tech-line below the Supermorzine lift. Well in the zone and rhythm coming naturally, bike and body as one, spitting heavy dust between sharpened bedrock, gripped and pumped and a smile tattooed on permanently. Roll into town, jog across the precipitous footbridge and carve courier style through the traffic back to Pleney, fifteen minutes to spare, piece of piss.
Glory Run
Dispatched at the top of the Pleney it was time to relax and enjoy a casual ten minute glory run back to Les Gets. The previous moments had been a real buzz, forced into a half-hour race pace effort at the back end of seventy miles of pushing the envelope. As had become the traditional daily conclusion, I sent the first couple of tabletops and pancaked the third before those final epic berms to the village and a waiting hose.
Steam rose off rapidly drying brushed-titanium tubes as the final 3km climb was attacked, on the rivet to the end. Few things compare to the sheer joy of pitching into a swimming pool and then supping 9% Belgian beer after an eight-hour mission. Final tally 72.4 miles and 6618m of ascent, if I'd managed to stick to the script this is definitely a 100+ mile and 10,000+ metre day; next year!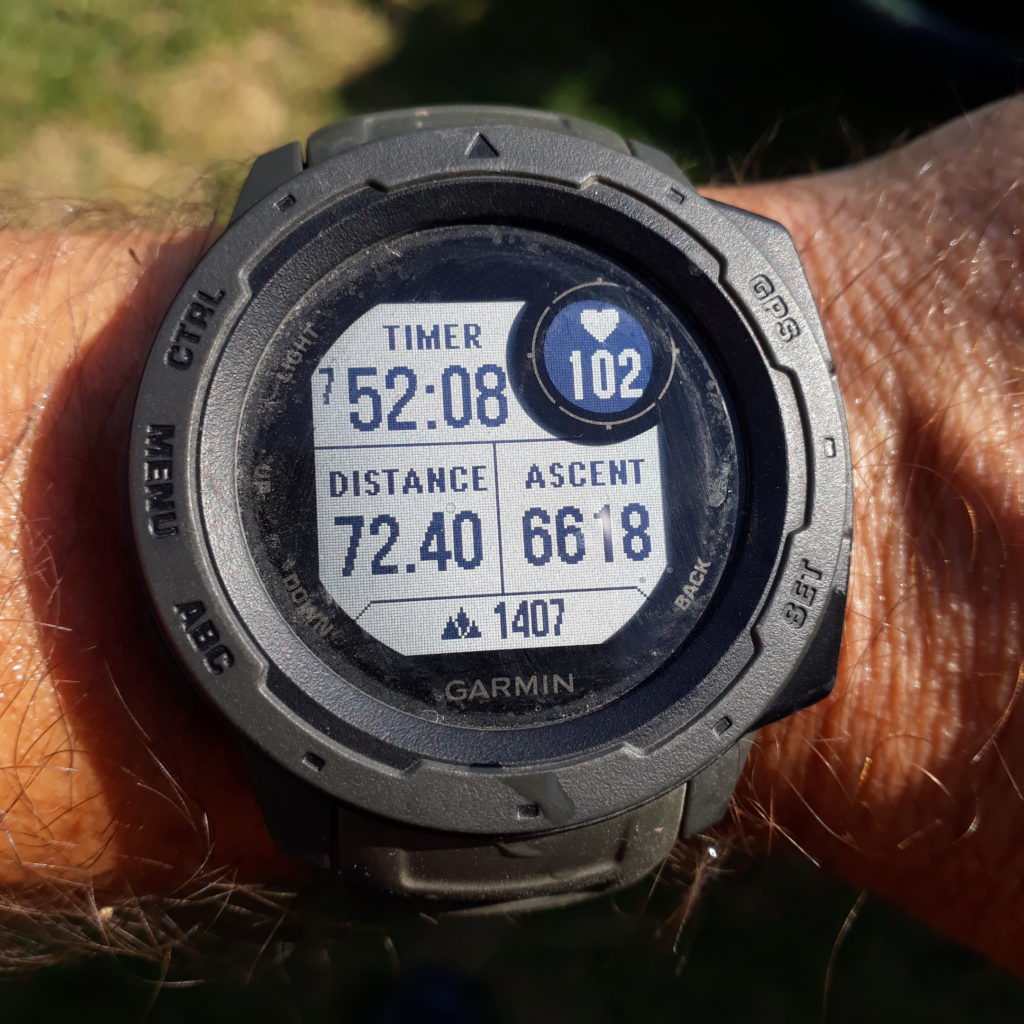 Thankyous
As ever, a word to sponsors Stanton Bikes, there are few machines that can cruise both Alpine road cols and near 7000m of balls-out descending without tangible compromises. The Switch9er Ti just brings style and smiles in every situation and is a total traffic stopper for its sheer beauty. As for key learnings, I felt fresh and strong for more the following day and am extremely pleased that I've added so many strength sessions to my traditional cardio efforts of late, if you want to survive consecutive bike park days without killing style and safety then do the same yourselves. Food wise, I survived on two small cereal bars and a half pack of Haribo which I didn't actually finish, and liquids wise I carried no bottles and relied purely on the natural springs. I didn't die of malnutrition or dysentery but you'll probably feel the need to carry more if repeating this route.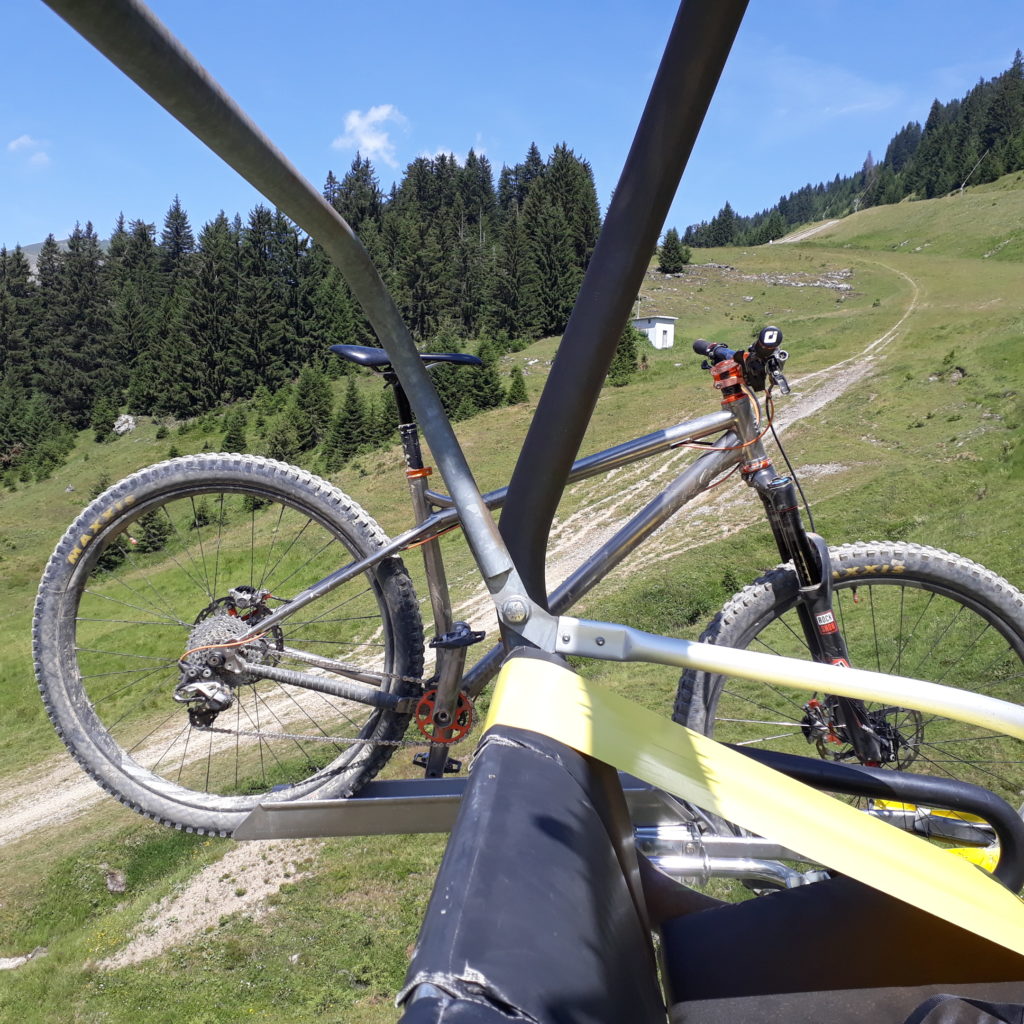 Not Xenophobic!
I don't really hate Switzerland, and all the Swiss I chatted to that day were great, but the signage was pure shite, as was the trail map if you want any useable info beyond the man-made routes. Next year I'll either do some more pre-planning or get a proper map and complete this epic challenge.