'Your teaching style is spot-on; relaxed, encouraging, fair but with a challenging edge. Throughout the day you gave me plenty of opportunities to practice in a location that really suited my level and the technique at hand. The carpark 'stuff' was put into context once you took me to the location to try it out. You have a great eye for spotting the smallest detail which can have an impact on someone's technique. You then backed this up with the use of the video which for me was great as I had never used it on myself before. Your use of questioning /challenges worked really well. The day flowed and there was no point that I could not follow a logical progression'.
– Kieron
Ireland's Most Experienced Mountain Bike Coach
Coaching on mountain bikes is Ian's true passion.  With over thirty years of riding and a decade of instructing he has a wealth of experience to share, but the real strength in his approach lies in attention to detail.  Coaching isn't just about taking a generic approach to skills acquisition, it's a detailed analysis of how you personally ride and an understanding of how to help you improve.  All Ian's mountain bike coaching work is done on a one-to-one basis or with groups of friends so you'll never be lumped in with people who aren't at your level.  This guarantees that the session will be totally tailored to you and so you'll rapidly improve without being held back or pushed too far, too soon.
Focusing initially on the key breakdown of skills in a safe, flat ground environment Ian will analyse your current technique using close observation and video feedback where appropriate.  Having worked on the skill itself, you'll then move on to a suitable trail or feature to test the new abilities for real.  There are a wide range of perfect mountain bike trails in the locality suitable for riders at all levels from total beginners to top level racers so you'll definitely get the opportunity to see the benefit of your practice.
Feeling relaxed is an essential element of learning and so you'll never feel pressured to do anything you don't feel ready for.  Ian will use his wealth of experience to challenge you appropriately to help push you up a level but the choices are always yours.  In this ideal learning environment, you're best set to achieve your aims.
Ian is Ireland's most qualified and experienced mountain bike specific coach and tutor.  Working for Cycling Ireland and Coaching Ireland he designed the syllabus for the highest-level MTB coaching and guiding awards available in the country.  As such he can break down all the key biking skills and explain them in ways that are most effective for you as an individual.
Mountain Bike Coaching in Northern Ireland
Rock and Ride are based in County Down, Northern Ireland at the foot of the Mourne Mountains.  This stunning area provides a huge range of trail types and challenging features.  On top of the well-publicised trail centres there are many miles of natural trails suitable for all levels of ability.  Beginners can spend time learning skills in a very controlled and safe environment until they build their confidence.  Intermediate riders and above will use the full variety of different trail options available.
Mountain Bike Coaching in Northern Ireland is perfect for all levels of rider, the scenery is stunning, the trails are even better and with Ian's years of experience it's the perfect coaching destination.
Why Get Mountain Bike Coaching?
For Safety
Mountain biking is inherently dangerous and if you ride for long enough then crashes are an inevitability.  However, many are easily avoidable with a better understanding of body positioning and braking technique.  Coaching will teach you where to place your weight on the bike, when and how hard to brake and will give you the confidence essential to getting through the rough stuff.
For Flow
'Flow' is the elusive quality that all bikers seek, the state where movements seem natural, not forced or jerky and trails are conquered effortlessly.  It comes from what coaches call 'unconscious competence' where even the hardest moves are performed without needing thought.  Practice is key to achieving this state but coaching teaches you exactly what to practice and irons out bad technique which is only enforced through repetition.
For Speed
Going fast is fun!  Unfortunately, it's not always simply a case of pedalling harder or braking less, not if you want increased speed without constant crashes.  Coaching will demonstrate how to generate and maintain speed in any trail situation, even when it's too rough to be able to pedal.  If you aspire to beat your friends, move up results sheets or simply enjoy the experience of moving at speed then coaching is the fast track to achieving it all.
What Does Mountain Bike Coaching Cost?
All of Ian's coaching sessions are three hours long and cost;
£90 for individuals
£125 for pairs
£150 for three or more (up to a maximum of six)
Following the session, you'll receive an e-mail breakdown of the skills covered to help with future practice.
What do you need to bring?
Along with bags of enthusiasm you'll need;
A mountain bike in good working order (can be hired with advance notice)
A suitable bike helmet (will be provided with hire bikes)
Gloves and eye protection (highly recommended)
Clothes suitable for a day of biking including a waterproof jacket
Any food and drink you'll need to keep the energy levels up
Full details are provided upon booking.  Contact ian@rockandrideoutdoors.com to arrange a session or if you have any questions.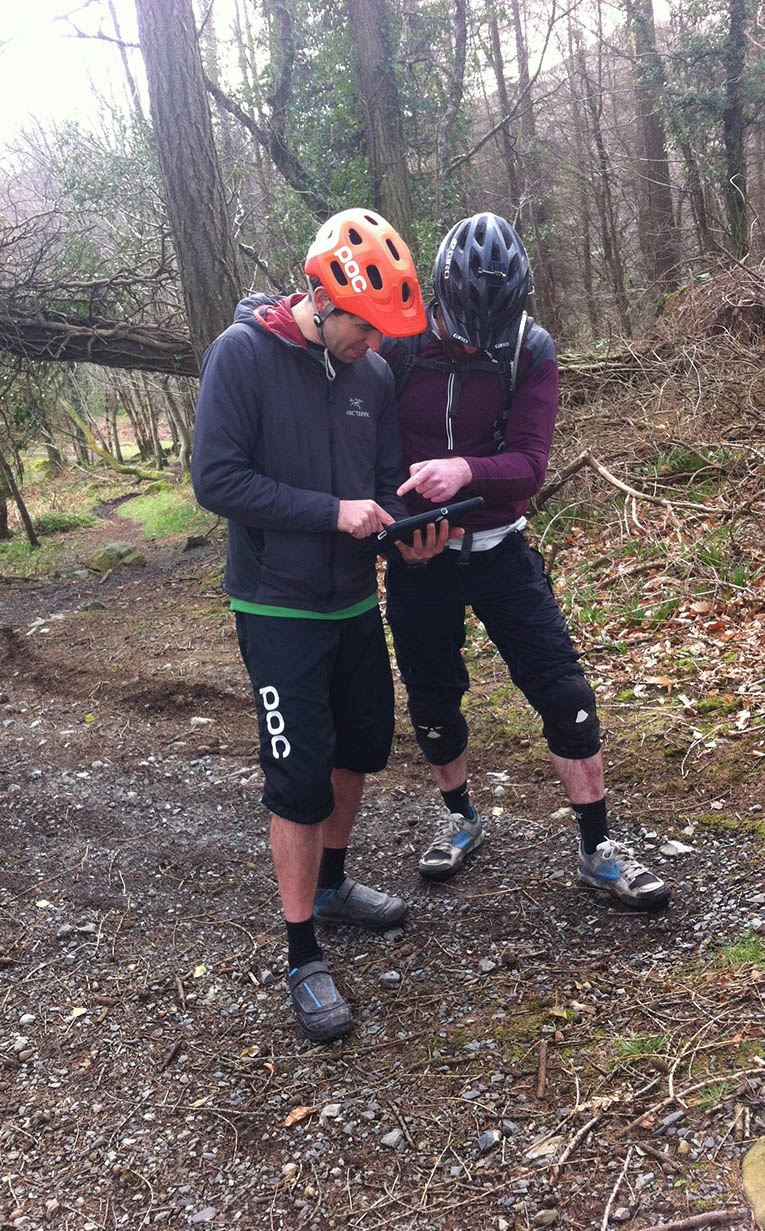 Climbing
Paul Swail
paul@rockandrideoutdoors.com
00447793453278 Mountain Biking
Ian Bailey
ian@rockandrideoutdoors.com
00447803132381