It seems unpromising from the outside but Bigwood packs a lot of punch in a small area with superb flowy trails and pristine singletrack.  Short climbs and seemingly longer descents punctuated with some super-fun tech make the perfect combination for a great day out.
Getting There
You need the secret password and special handshake to track down the parking for Bigwood.  It's found adjacent to the dual carriageway between Newry and Warrenpoint but don't roll up to Narrow Water Castle and expect a warm welcome and a cup of coffee, that's private property.  In the past, we've parked at the quarry entrance but I'd hesitate to recommend that due to access issues.  Get some local assistance to uncover this hidden gem or alternatively enter the Vitus First Tracks Enduro round that usually takes place there for a full weekend of tearing up the trails.
Natural Trails
Once in the woods there's only one real climb that you'll ascend from either side.  It's a short and relatively pain free pedal and at the top you'll see plenty of obvious trailheads that are a leftover from the races.  From there, pick a trail and enjoy.  You probably won't have a clue where you are when you get to the bottom, but don't panic, just point your front wheel uphill and in ten minutes you'll be back at the top again.
The most technical trails end up near to the quarry entrance where there are also a few gap jumps to play on.  The rest of the trails use the small hill really well with numerous tricky corners, multiple lines and a few cheeky drops.
Top Tips
Bigwood can get greasy in the wet, brilliant for sharpening up your skills but not great if you're not well practiced on slippy, natural trails.
There are no facilities on-site so bring everything you'll need.  If you value your car, then don't forget the old blankets for chucking the bike in the boot/back seat!
If you visit around April time you may be lucky enough to coincide with masses of bluebells that make for some amazing pictures.
Bigwood is quiet most of the time so you can generally let loose, just watch out for the occasional dog walkers.
On the way in, don't forget to note where you've parked!  The whole woodland area looks pretty similar to me and so I'm usually a bit disorientated!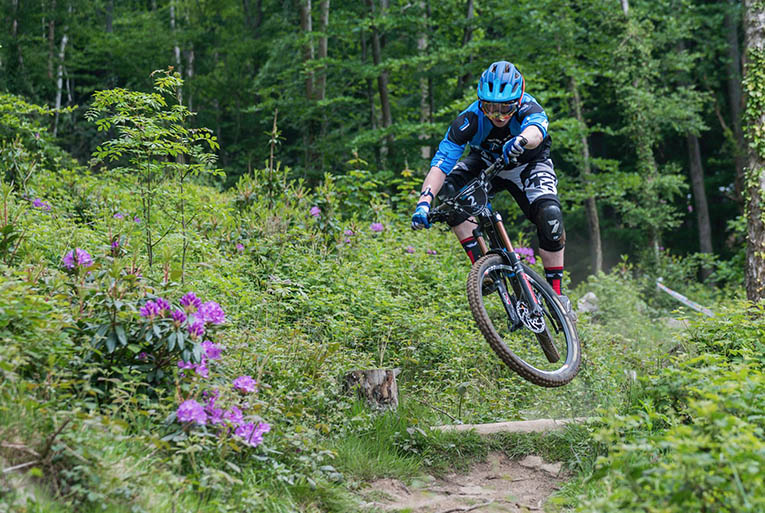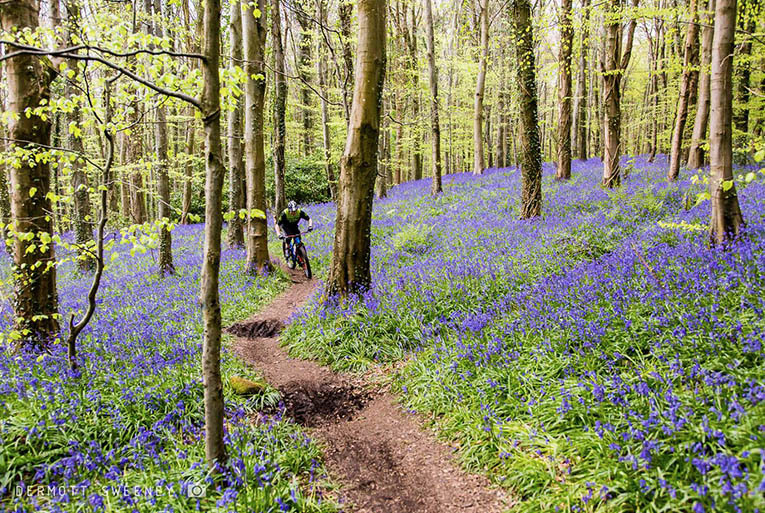 Ideal For?
Intermediates who want to improve their natural trail riding.  Experts who love singletrack and don't mind a bit of downhill pedalling to keep the speed.  Basically, anyone who loves riding mountain bikes, it's a total blast!
Most Suitable Bike?
Hardtail up to 140mm-160mm of travel is perfect.  I wouldn't bother bringing the DH bike as the descents are a touch short and pedally to justify it.
Local Facilities?
Newry in one direction and Warrenpoint in the other, I know which one I'd choose for a bite to eat or a post-ride pint and it's not Newry!  Heading in that direction also takes you closer to Rostrevor if you're looking for bike friendly accommodation and another amazing days riding.  Bike wash wise, it may have to be a garage jet wash, just mind those seals and bearings.
And a Disclaimer
These trail guides are personal opinions only and as such are entirely subjective.  Other people will disagree but this is what we think.  We're experienced riders and we know what we like.  The guides are written to be factual to a point but are obviously influenced by our viewpoints, if you want clarification on anything then contact us.
Please don't come crying to us if you get lost, hurt or chased by angry landowners when taking cheeky shortcuts.  Many of the forest trails don't officially exist, there is no trail map apart from the trail centres and so you need to exercise care.
Stick to the advice laid out above, be sensible and you'll have an amazing time discovering the stunning Northern Ireland mountain bike trails.  Ignore the advice and just like anywhere in the World you may end up in big trouble.  You have been duly warned. Climbing
Paul Swail
paul@rockandrideoutdoors.com
00447793453278 Mountain Biking
Ian Bailey
ian@rockandrideoutdoors.com
00447803132381