The self-styled 'adventure capital' of County Down has gained a solid reputation as a biker's dream with plenty of trail action for Intermediates to Experts.  Beware though, either chip out for the uplift or pay for your fun with buckets of sweat!
Getting There
The entrance to Kilbroney Forest is on the coast road just outside Rostrevor in the direction of Kilkeel/Newcastle.  There is plenty of free parking within the Forest Park but please stick to the specific mountain biker's car park so all the other users can still get a space up at the top.
There is also the top 'Cloghmore' car park which is where the uplift service offloads or if you have two vehicles and plenty of petrol then a DIY uplift is possible.  This cuts out the worst of the climb on the trail centre loop and also gives access to the two purpose built DH tracks and some of the best natural downhilling in Ireland.
Man-Made XC
Rostrevor boasts a 27km Red loop and a 19km Black loop which wind up into the Mournes near to the summit of Slieve Martin giving a slightly adventurous feel.  Many people wax lyrical about these trails, personally I think they're OK.  Be prepared for the initial ascent that takes even the fittest of riders around forty minutes and if you're not in great shape then you'll be too ruined by the top to enjoy the rewards.  On the way, you'll inevitably stop at the massively hyped 'Kodak Corner' where there are some mind-blowingly attractive views across Carlingford Lough to the Cooley Mountains, before continuing the grind.
Once arriving at the summit you're rewarded by a small drop and then more draggy climbing.  Eventually there are some superb sections of trail with a couple of great descents but in classic Dafydd Davis style the flow is sometimes ruined by poorly placed corners and excessive windiness.  In my mind, the very best of this trail is actually the final section which can be attacked safe in the knowledge that you're nearly back at that squashed doughnut in the glove box.
Overall, it's worth doing once but it's very rare that I've got the motivation to hit up the initial climb again to do the Black variation too.  On that note, if you have to choose I'd stick with the Red even if you're an expert.  There are no genuine 'Black' standard features at all, just more stalling rock gardens.  It's fun enough but far from full-on.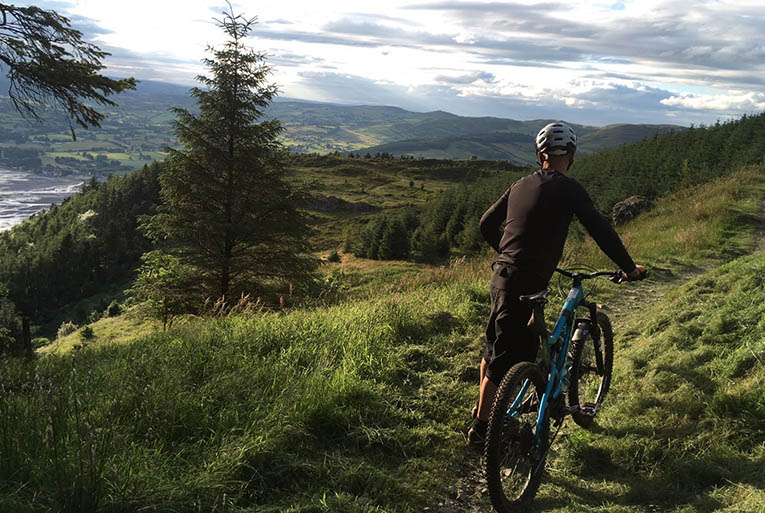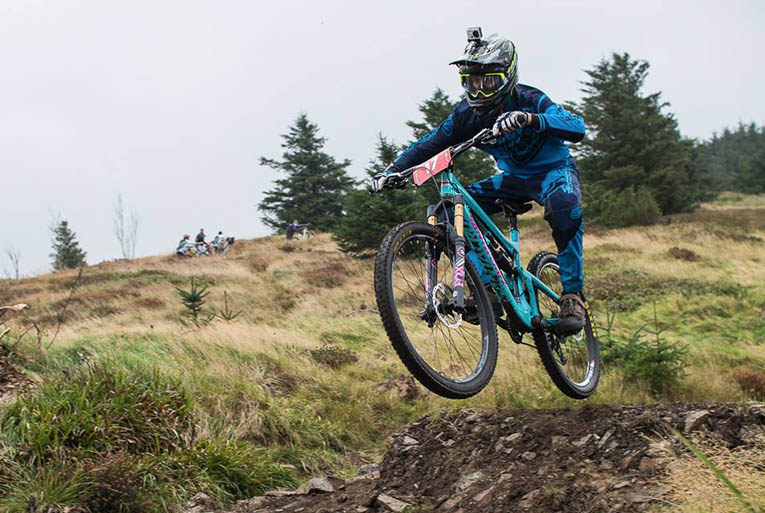 Man-Made Downhill
In addition to the loops there are also the two Orange graded downhill trails, 'Megamission' and 'On the Pulse'.  Both these trails need to be given due respect, through questionable design and ill-informed rider choices there have been a number of very serious incidents.
Megamission is a big boys BMX track with some hefty berms and lengthy tabletops.  This trail can be a lot of fun if you know what you're doing but is often foolishly undertaken by the under skilled, lured in by the smooth surface.  Releasing the brakes brings instant velocity and the deep compressions and near vertical take-offs require jumping ability to stay safe.  If you're a bit borderline, then it is all rollable but stay alert for the faster riders tearing up behind you.
On The Pulse is a rocky, twisty jackhammer of a trail.  I actually think it's not bad and I only ride hardtails but be prepared for a battering even on the big DH rigs.  The full-on nature of parts of this trail tends to deflect the uninitiated away so if you rip then you can enjoy some unencumbered fun.
A combination of parts of these trails has been used for the bottom section of the Red Bull Foxhunt in recent years.
Natural Trails
Listen carefully to the locals and you might hear talk of the mythical 'Magic Carpet', 'Bins Runs' or 'Mind The Gap'.  There's no great mystery behind why Rostrevor is starting to churn out some World Class young downhillers as there are a number of totally amazing downhill runs, with some short sections even feeling Alpine in their characteristics.
There is also some really good open mountain riding around Slieve Martin with contouring sheep tracks providing a real technical challenge and allowing you to create a route joining Kilbroney Forest to nearby Ballyedmond Wood.
There are also trails near the man-made bits up at Yellow Water and some proper bog-trotting (of questionable legality) linking Leitrim Lodge to the top of Kilbroney Forest.  You'll need a map, compass and navigation skills to get on to those.
Top Tips
If you've got family you need to placate for long enough for you to get around the loop then there are play parks and a café at the main car park.  There is also a pleasant stroll from the Fairy Glen which starts at the stone bridge in the village.  My kids love lobbing rocks in that river!  The track there is also good fun for the kids on bikes.
If you can't bear the notion of the immense first climb, then you can get a one-off uplift for a few quid.  I've never done it because I'm not lazy but it's probably a handy time and sanity saver.
Don't buy a day uplift ticket and then realise you're not good enough to ride the DH tracks.  You'll just end up as yet another rag doll ferried off to Daisy Hill Hospital.
If you drive the old road to Yellow Water car park, you can take in the brilliant 'Home Run' final descent without all the struggles that usually precede it.  You can then ride back up the road or even better get dropped at Yellow Water and get someone to drive the motor down to Rostrevor.  This is a great option if you're with kids/mates who are technically adept but not that fit.
You can try to find the natural DH trails but they're well dispersed and some are well hidden.  Befriend a local or get a guide to stand much of a chance.  Be prepared to be blown away by the quality as long as you're a decent rider.  The uplift service can be used to get near to some but the very best require a good degree of effort.  The rewards make it all worthwhile!
Take plenty of food, drink and tools/spares on the main loop.  At the top end, you're quite a walk from the car park.
Don't leave any valuables in the car park at any time.  There have been spates of break-ins over the years.  The thieves know you'll be away a while!
Ideal For?
The technicality of the trail centre stuff is suitable for intermediate standard riders but the loop is long and physical.  Advanced riders will enjoy the trail centre and really good riders love the natural trails.  Know your limits around here though.
Most Suitable Bike?
The trail centre surface is pretty broken up but hardtails are still fine.  Anything up to 160mm travel will do you well.  For the DH tracks a DH bike is best, particularly with the uplift service.  The natural trails require skill and an Enduro/DH set up.
Local Facilities?
There is on-site bike hire, toilets and a café.  Rostrevor has cafes too or you can head to nearby Warrenpoint where there are plenty of restaurants, cafes and pubs.  There is also bike-friendly accommodation in the area.
And a Disclaimer
These trail guides are personal opinions only and as such are entirely subjective.  Other people will disagree but this is what we think.  We're experienced riders and we know what we like.  The guides are written to be factual to a point but are obviously influenced by our viewpoints, if you want clarification on anything then contact us.
Please don't come crying to us if you get lost, hurt or chased by angry landowners when taking cheeky shortcuts.  Many of the forest trails don't officially exist, there is no trail map apart from the trail centres and so you need to exercise care.
Stick to the advice laid out above, be sensible and you'll have an amazing time discovering the stunning Northern Ireland mountain bike trails.  Ignore the advice and just like anywhere in the World you may end up in big trouble.  You have been duly warned. Climbing
Paul Swail
paul@rockandrideoutdoors.com
00447793453278 Mountain Biking
Ian Bailey
ian@rockandrideoutdoors.com
00447803132381