Situated at the base of Northern Ireland's highest mountain and right next to the bustling tourist town of Newcastle, Donard Forest is steep, rooty and rocky. It's where the big kids come to play!
Getting There
Donard Forest is located at the Southern end of Newcastle, on the road to Kilkeel.  Parking is free and plentiful in Donard Car Park but in the Summer months it fills up rapidly, particularly at the weekends.  Arrive early to avoid the hordes coming down from Belfast to eat ice cream and leave litter everywhere.
Natural Trails
Donard definitely has a more serious feel to it than neighbouring Tollymore Forest.  It's more exposed, steeper and less picturesque but hidden within the trees are some brilliant and testing trails.  From Donard Car Park follow the fire roads up past the YMCA entrance and wind your way either to the quarry to the left or towards Drinahilly to the right (with the big mast on its summit).  Both those points are marked on the Mournes 1:25000 and a bit of searching around either will reveal a few trailheads.  As you descend, you'll probably notice other trails appearing and from there it's a matter of simple exploration.
Other amazing trails are to be found by following the top fire road between Drinahilly and the quarry and looking to your right as you approach the Ice House turn-off.  Pushing up into the section of forest that sits adjacent to the main walking track up Slieve Donard reveals the top sections of epic trails that lead all the way back down to Donard Car Park.
As ever, if you want to maximise your fun get yourself a guide, the best trails are definitely trickier to spot and more dispersed than in the other areas.
The trail network in Donard Forest is changing continuously with felling work destroying sections and a dedicated team of local heroes rapidly re-creating them.  Donard is also a regular feature on the Vitus First Tracks Enduro series and Irish MTB legend Glyn O'Brien and his dig crew have opened-up new sections and repaired others.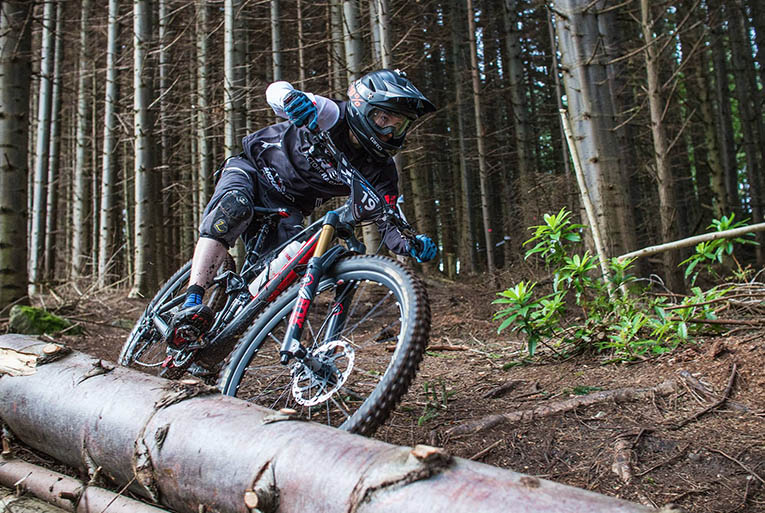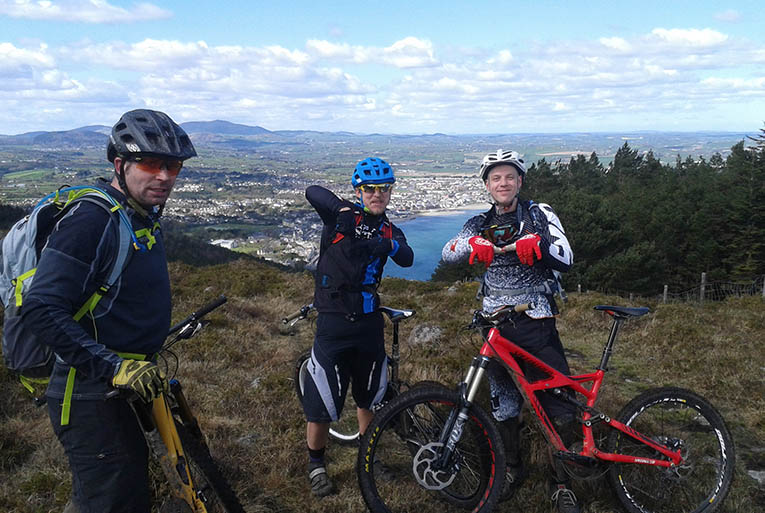 Top Tips
Bring your A-Game!  The Donard Forest trails can be steep and unforgiving in places, especially in the wet.  That said, if you're an expert you'll love this place.
Donard Forest drains pretty effectively and so it's a good option after recent rainfall.  It is however fully exposed to any Easterly and North Easterly winds so can get a battering when it's stormy.
The climbs are pretty tough and fairly direct.  Fitter riders will probably get in five or six runs before the lure of nearby cafes becomes too strong, lesser physical specimens may only manage two or three!  The descents are long and techy though and always worth the effort.
Strava is probably not the best way to track down the trails in Donard Forest as they change fairly regularly and you may well find yourself hitting plenty of dead ends where the felling work has been done.
There have been a few incidents of trail sabotage in Donard with logs deliberately placed across lines.  It bears the hallmarks of sad, bitter Lone Wolf rather than an organised opposition and luckily isn't too common but keep it in mind if you're about to launch a blind drop-in.
It's probably best not to leave bikes unattended on the back of cars in Donard Car Park whilst you head for lunch, particularly during the Summer.  I've never heard of any incidents yet but you don't want to have to rush your buns and coffee because of the fear.
The closer you get to Donard Car Park, the more likely you are to come across other users so stay alert.  Fortunately, Donard Forest doesn't see so much action from other users except for the areas around the main mountain track which can get packed on decent days or when ill-prepared charity events are running.  Be particularly careful of the road crossings on the trails that run from above the Ice House.
The Glen River Track which is used by most walkers (which heads up the left-hand side of the river from the lower stone bridge) is a brilliant descent featuring some lovely technical rock drops.  Definitely avoid it at peak times though as it can be busy and once you're committed to the lines there's no easy way of stopping.
If you love a good lengthy ride, then you can combine Donard Forest with neighbouring Tollymore Forest to get some good miles and plenty of solid climbs in.
Ideal For?
Decent riders who are happy when the going gets seriously technical.  Experts will love Donard and intermediate standard riders would enjoy the tamer trails if they can find the most suitable ones.  Fitness is essential to get the most out of this area as you'll be climbing a lot!
Ian bases some of his coaching here, give him a shout to arrange a session to push your riding to the next level.
Most Suitable Bike?
Ian uses the hardtail and loves it but Enduro rigs with 140mm+ of travel are advisable.  Donard is definitely suitable for the DH bikes with some lengthy descents and a few big gaps and drops if you know where to find them.
Local Facilities?
You'll roll down from your final run straight into Newcastle where there are tens of cafes, pubs, restaurants and ice-cream parlours.  You'll not struggle to replace the lost calories.
There is plenty of local accommodation from hostels to hotels.
And a Disclaimer
These trail guides are personal opinions only and as such are entirely subjective.  Other people will disagree but this is what we think.  We're experienced riders and we know what we like.  The guides are written to be factual to a point but are obviously influenced by our viewpoints, if you want clarification on anything then contact us.
Please don't come crying to us if you get lost, hurt or chased by angry landowners when taking cheeky shortcuts.  Many of the forest trails don't officially exist, there is no trail map apart from the trail centres and so you need to exercise care.
Stick to the advice laid out above, be sensible and you'll have an amazing time discovering the stunning Northern Ireland mountain bike trails.  Ignore the advice and just like anywhere in the World you may end up in big trouble.  You have been duly warned. Climbing
Paul Swail
paul@rockandrideoutdoors.com
00447793453278 Mountain Biking
Ian Bailey
ian@rockandrideoutdoors.com
00447803132381