Stunningly situated, on a clear day the views are beautiful and the trails are worth a go as part of a family visit.
Getting There
The National Trust Castle Ward Estate is located on the shores of Strangford Lough near to Downpatrick.  Being NT, unless you're a member you'll need to pawn your granny to afford the entry although if you were feeling sneaky you could ride in the back-entrance road without anyone noticing.
Man-Made Trails
Very much family oriented, there are three Green trails which range from 2-4km and take you around the best of the surrounding views without any real physical strain.  Bikers are catered for with the 13km Blue Boundary Trail.  It's alright, definitely not worth making the journey for alone unless you're with beginners but worth getting the bike out of the car for if you're already there.  The views can be brilliant and there is some pleasant woodland and occasional bits of flow.  Over the last few years I've ridden this route on a Fatbike, an E-Bike and a Cyclocross bike and maybe even once on a 'normal' bike!
The E-Bike was by far the most fun by the way!
Top Tips
This is an ideal spot for beginners to get in a bit of distance and trail time.  Bring the family, a picnic and the kids' balance bikes.
Castle Ward Estate host events throughout the year like 'Pumpkin Fest' and Family Fun Days.  It's well worth combining your family day trip with one of these as there's normally a good buzz about the place with a range of gourmet food sellers and plenty to keep the wee ones happy.  On days like this, the trails aren't really any busier so you'll still get a good spin in.
Watch out for gates and diversions.  Cattle are grazed on the fields that the trail passes through at various times.  Heed the warning signs and don't try to tiptoe past the horny bull!
If you're a Game Of Thrones fan then you'll have plenty to check out.  You need a huge slice of imagination to picture it now but the lower courtyard was Winterfell and Audley's Castle was also featured.  You can do some Game Of Thrones related activities on site with Clearsky if that's your thing.  It's very authentic with original props and clothing from the show but you'll need deep pockets.
You can also hire a canoe if you fancy splashing round the bay.  Views from off-shore back over the estate are class and you may well see some inquisitive seals.  Just don't stray out into the lough!
Castle Ward is best enjoyed on a sunny day.  It loses much of its charm in the wet.
Explore the rest of the grounds on foot, they're really pleasant and there's a kids' play area above the car park.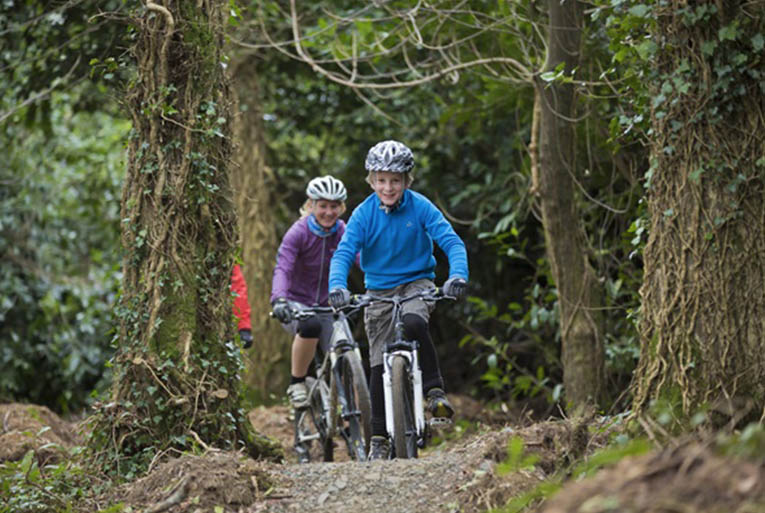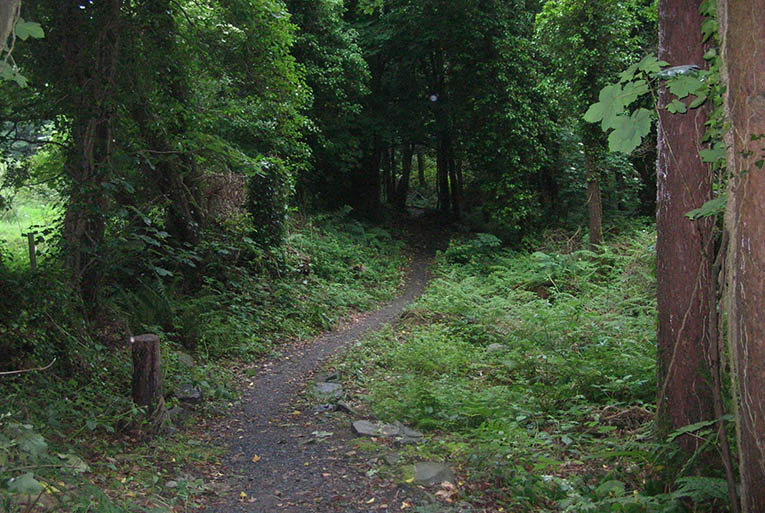 Ideal For?
Beginners to intermediates, and families.
Most Suitable Bike?
Hardtail to 120mm is perfect.  Any bigger and you're dragging far too much bike around.  You can hire a Fatbike from Clearsky for the craic and realise that the novelty runs out really quickly!
Local Facilities?
There is on-site bike hire, toilets, glamping pods, a campsite and a café.
And a Disclaimer
These trail guides are personal opinions only and as such are entirely subjective.  Other people will disagree but this is what we think.  We're experienced riders and we know what we like.  The guides are written to be factual to a point but are obviously influenced by our viewpoints, if you want clarification on anything then contact us.
Please don't come crying to us if you get lost, hurt or chased by angry landowners when taking cheeky shortcuts.  Many of the forest trails don't officially exist, there is no trail map apart from the trail centres and so you need to exercise care.
Stick to the advice laid out above, be sensible and you'll have an amazing time discovering the stunning Northern Ireland mountain bike trails.  Ignore the advice and just like anywhere in the World you may end up in big trouble.  You have been duly warned. Climbing
Paul Swail
paul@rockandrideoutdoors.com
00447793453278 Mountain Biking
Ian Bailey
ian@rockandrideoutdoors.com
00447803132381