Maybe worth a pop if you're passing or for a weekend away with the kids.
Getting There
Located in the Clogher Valley over in County Fermanagh, the Blessingborne Estate is privately owned so you'll have to chip out for parking.  Please don't park outside the estate and ride in, these people have to make a living!
Man-Made Trails
Hands in the air time again, I've only ridden them once so am hardly an expert.  Rock and Ride got a guided tour of the trails with Phil Saxena, the trail designer, and the estate owner who was pretty affable and extremely posh!  He was trying to convince us that Blessingbourne could be a World Class biking venue of the future and that he was a massive MTB fan.  The impression we got was that he'd have put literally anything on his land that had grant provision and might provide the cash for the upkeep of his house.
Still, fair play to him for putting the effort in and with regards to the trails we felt that they'd done well putting a vaguely interesting route through what is essentially bog-land with hardly any hills.  There was a short but well-built section of log rides and a few drops but wasn't a whole lot else of note and there's no way I'd ever drive all that way to ride them again.
That said, they do have an 8km Red Trail, a 4km Blue Trail and the trailhead pump track, so combined with the on-site accommodation the trails could form part of a nice weekend away with the family.  The estate itself was picturesque with a friendly feel to it and Fermanagh has other stuff worth a look, just don't go there purely for the biking, come to the Mournes instead!
Top Tips
Take the family for a day trip as part of a visit to Fermanagh, or stay over and make a weekend of it.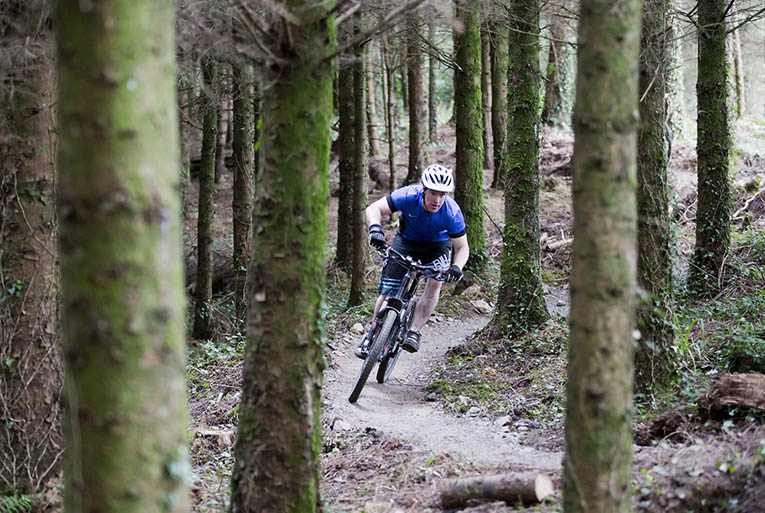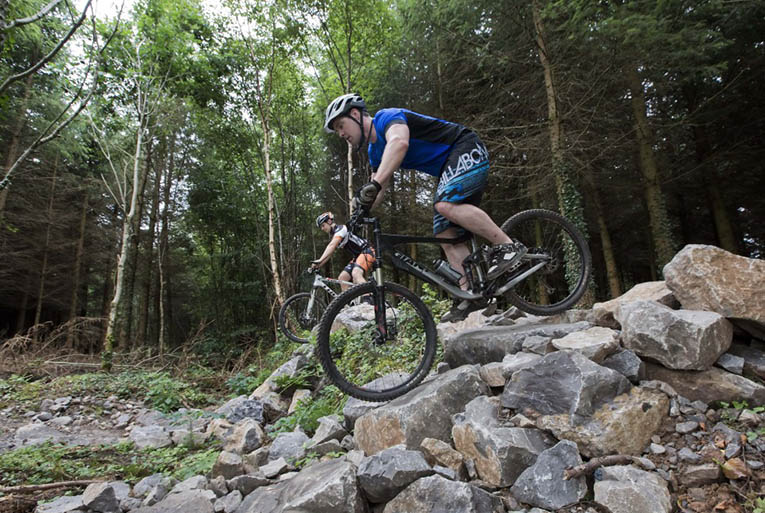 Ideal For?
Beginners to intermediates.  There was nothing there that anyone better wouldn't bore of very quickly, except maybe messing around on the pump track.
Most Suitable Bike?
Hardtail to 120mm is perfect.  Any bigger and you're dragging far too much bike around.
Local Facilities?
There is on-site bike hire, toilets, accommodation and a café although it's only open at the weekends and seasonally.
And a Disclaimer
These trail guides are personal opinions only and as such are entirely subjective.  Other people will disagree but this is what we think.  We're experienced riders and we know what we like.  The guides are written to be factual to a point but are obviously influenced by our viewpoints, if you want clarification on anything then contact us.
Please don't come crying to us if you get lost, hurt or chased by angry landowners when taking cheeky shortcuts.  Many of the forest trails don't officially exist, there is no trail map apart from the trail centres and so you need to exercise care.
Stick to the advice laid out above, be sensible and you'll have an amazing time discovering the stunning Northern Ireland mountain bike trails. Ignore the advice and just like anywhere in the World you may end up in big trouble. You have been duly warned. Climbing
Paul Swail
paul@rockandrideoutdoors.com
00447793453278 Mountain Biking
Ian Bailey
ian@rockandrideoutdoors.com
00447803132381