Fun, versatile and accessible.  In my eyes Castlewellan is the undoubted king of the Northern Ireland trail centre venues, especially if you've got the family in tow.
Getting There
Unsurprisingly Castlewellan Forest Park is located in Castlewellan.  Slap it in the Sat-Nav and head to the top of the hill in the middle of town.  The Forest Park entrance is opposite the library and is fully signposted.  You can pay a few quid and park right at the trailhead with access to the toilets, paid bike wash and courtyard where you can grab a coffee and a shower.  I always go cheapskate and park in the upper-square car park opposite the main entrance and ride the extra half mile in but I've got my own hose, shower and kettle five minutes away at home!
Man-Made
There's plenty here to entertain the whole family and it's perfect for beginners to intermediates.
The pump track is tight, twisty and eminently pumpable!  My kids have loved it since two years old and you can happily chill out at the picnic benches and let your family burn some energy.  Local ripper Ali Baron once did 100 non-stop laps for a Snickers Bar but my kids are knackered after about five.  It's also a great place to watch adults on 2k full-bouncers get schooled by youngsters on skip bikes with no, chain, brakes or grips.  It's one of the few things that gives me hope for the future of mankind.
A 4km Green loop laps the lake with views of the estate house and plenty of places to stop and throw stones in the water or eat a picnic.
The 4.5km Blue loop is basically the same as the Green but it includes the opening half kilometre of trail centre and is well worth it for early off-road experiences.  There are no steep bits or rocky sections but plenty of swoopy little drop-ins to pump through.  You're apparently not supposed to but I'd recommend turning right at the end and heading straight back along the lake to hit this section repeatedly.
The 19km Red trail is great.  Granted it's a trail centre and so it's never going to blow away experienced bikers but it's just the right level for the masses.  Unlike Rostrevor there are no big climbs or lengthy descents but the morphology has been used well and I'm never left with that sense of injustice that I get from the Rostrevor trails.  You get out what you put in, a few punchy ascents and a few sprinty descents and inside fifty minutes (up to two hours for newbies) you can be back at the car park raring to go for another lap.  The Black variations are good fun but contain no genuinely Black standard features.  Beware of a couple of pointless rock gardens and a few spots where you cross the walking trails at mach speed.  I love Castlewellan for banging out training laps on my Singlespeed or Winter time night spins.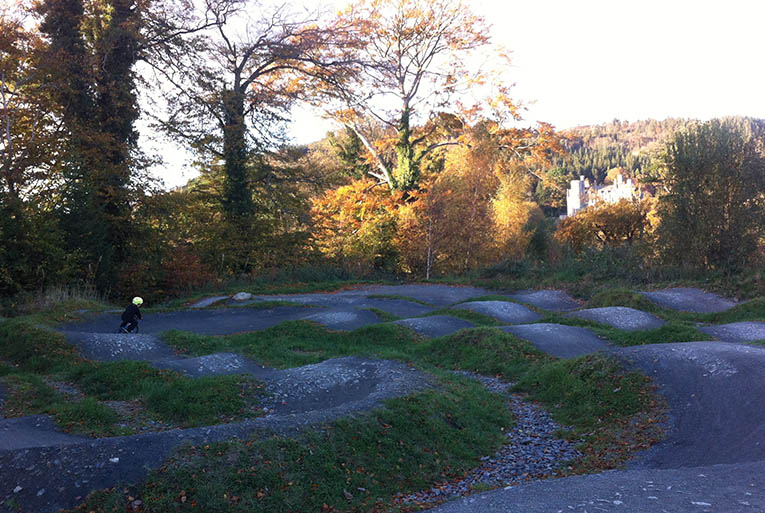 Natural Trails
Castlewellan is the epitome of old school natural singletrack.  Flowing, swoopy and bar-clippingly close to the trees, it's a pure fun injection.  In the dry it's a great loam flicking intro to the natural for intermediate standard riders but beware, the second it gets damp it definitely requires the subtle touch of an expert.
To find the good stuff, ride the first section of trail centre up to the point beyond the top of the lake where the man-made trail turns off right (marker 12 on the trail map).  You can then either continue straight on towards the Leitrim gate and look out for trails on your right or take the forest road on your right and look out for trails dropping down on your left.  As ever, getting a guide is the only guaranteed way to discover the full range of trails or you could enter the Vitus First Tracks Enduro which always hosts a round in Castlewellan and allows you to wear an open face helmet and goggles without feeling like too much of a tit.
There are also trails up around Slievenaslat but please avoid the temptation to ride the stepped walker's trails.
Despite Castlewellan Forest Park lacking any really big hills there are some surprisingly steep sections on the natural trails and some of the drops demand a bit of respect.  Just don't tear round any blind corners without scoping first.
Top Tips
Bring the family!  There is a play park, a big lake, ducks, the World's second largest permanent hedge maze (don't lose the kids in there), a decent campsite, picnic tables and some amazing views back across the Mournes.
There is a café in the courtyard but it's traditionally been disappointing.  I don't want to slate it too much in case it improves so stick your head in and see what you think.  In the opposite corner of the courtyard 'Life' adventure centre (not the religious cult it sounds like) offers much nicer surroundings, decent hot drinks and you can pay for a shower.
Nearby Bunkers Hill, (along the road opposite the Forest Park entrance past the GAA Pitch) is great for a stroll or for young kids to ride bikes.  It has another decent play park and the one mile loop gives some of the best all round views imaginable of the Mournes, the coastline, the forest park and the surrounding hills, a real 360 degree treat.  Just beware of the gravelly surface if your kids aren't quite in control of their brakes yet, my wee lad once spectacularly binned it there.
Castlewellan can unsurprisingly get busy in the Summer and the trails can get quite full with slow moving traffic.  Don't rock up on a sunny Sunday in July expecting to get a clear run at all the Strava KOM's!  There are, however plenty of short fire road interludes to pass slower movers when you need to.
On that note, please be courteous whenever you find yourself on the fire road adjacent to the lake.  It gets really busy here with dog walkers, runners and buggy pushers who'll rightfully get a bit arsey if you come tearing past.  Chill out and enjoy the views.
Get on the pump track to rapidly improve your abilities.  Remember to lay off the brakes and assist the shape of the rollers to generate momentum.  Watch a local five-year-old if you want a good visual demonstration.
Be very aware of the low down 'demarcation rocks'.  They are perfectly positioned to clip a pedal and cause the bike to abruptly stop and send you over the bars.  Apparently, according to the trail builder, they're essential to stop people taking short cuts but in reality, they're a totally unnecessary danger, particularly when night riding.
If you don't want to chip out for the bike wash, then ride directly down the slip road into the lake to wash clothes and bike simultaneously.  Bring the sponges and brushes but not the Muc-Off, we don't want to kill the ducks!
You can hire a canoe and take a paddle out on to the lake.  On a sunny day, it's an amazing way to get a different perspective and escape the crowds.
Ideal For?
The mix of man-made trails is perfect for beginners to intermediates and the Red loop is a brilliant introduction to longer rides for those without a huge amount of fitness.  It's not difficult to cut short if you find yourself too knackered and have the trail map at hand.
The natural trails are brilliant for intermediates when dry but do remember to respect the occasional steeper and rockier sections.  Experts will have a blast in any conditions, when it's wet it's super greasy and the real talent rises to the top.  Time to sort the pecking order with your mates!
Kids will also love the pump track and if they're a bit older then the lap of the lake only contains one small hill and can easily be punctuated with picturesque stops to fill them with sugar.
Most Suitable Bike?
The trail centre stuff is more sprinty than gnarly so hardtail up to 140mm of travel is perfect.  For the natural bits, there is plenty of flow so hardtail to 140mm will get you maximum enjoyment.  It's a bit draggy on the bigger rigs and definitely don't bother with the DH bike.
Local Facilities?
There is on-site bike hire, toilets, showers and a café.  Castlewellan has cafes and pubs too or you can head to nearby Newcastle where there are plenty of restaurants, cafes and pubs and you can grab an ice cream and play on the beach.  There is lots of accommodation in the area.
And a Disclaimer
These trail guides are personal opinions only and as such are entirely subjective.  Other people will disagree but this is what we think.  We're experienced riders and we know what we like.  The guides are written to be factual to a point but are obviously influenced by our viewpoints, if you want clarification on anything then contact us.
Please don't come crying to us if you get lost, hurt or chased by angry landowners when taking cheeky shortcuts.  Many of the forest trails don't officially exist, there is no trail map apart from the trail centres and so you need to exercise care.
Stick to the advice laid out above, be sensible and you'll have an amazing time discovering the stunning Northern Ireland mountain bike trails.  Ignore the advice and just like anywhere in the World you may end up in big trouble.  You have been duly warned. Climbing
Paul Swail
paul@rockandrideoutdoors.com
00447793453278 Mountain Biking
Ian Bailey
ian@rockandrideoutdoors.com
00447803132381