Out on its own in County Tyrone, Davagh boasts a better flow than the other trail centres and the only genuine man-made 'black' features in the province.  Shame it's so far away and it can be bleak up there.
Getting There
Davagh Forest trailhead is located about 13 miles Northwest of Cookstown up in the Sperrin Mountains.  There is free parking at the trailhead as well as a decent pump track and a fun enough skills area.  You can hire a bike, buy basics and use the bike wash and changing areas but only when the Outdoor Concepts shack is open.  There's a play park for the kids which gets rave reviews and if you believe Trip Advisor then the trailhead is great.  I must admit that the times I've passed through, generally rainy midweeks when it's been largely deserted, the area has felt more like a dogging spot than a pleasant environment to hang out.  Can't put my finger on it, just a dodgy feeling!  I'm sure on a sunny day at the weekend with the car park buzzing it's a lovely place to be.
Man-Made
There's a 3km Green loop and a 7.5km Blue Loop clearly designed to entice the families out to play.  I'm putting my hands up here and admitting to not riding either but the grading pretty much tells you what to expect.
The 16km Red loop is noticeably different in design to Rostrevor and Castlewellan.  It's almost as if Phil Saxena and his Architrail crew had some understanding of the concept of flow when they put it together!  There are none of the unnecessarily stalling 90-degree bends slap in the middle of the good bits and you can really let loose on the descents.  The trail also contains a couple of rock drops that can genuinely be considered black standard features.  Eagle Rock is good fun although a quick look at YouTube reveals that they've dumbed it down since I was last there by building a roll off at the bottom.
You may hear talk of 'The Widowmaker' climb that drags up on to Beleevnamore Mountain.  All I can say is they must be made of softer stuff in Tyrone because it's barely worth a mention.  My wife would be hugely surprised if I was bumped off by ascending that wee lump.  That said, if you're struggling for health I'm sure it can hurt a bit.
I'd definitely recommend doing a couple of laps of the Red if you've travelled a decent distance to get to Davagh Forest.  The trails are playful without being too physical and are well worth a second look.
The forest itself has a slight fairy tale feel to it in places, the densely-packed trees covered in heavy mosses are unlike anywhere else I've been.  I really like the atmosphere in that part but might get a bit spooked on a solo night ride!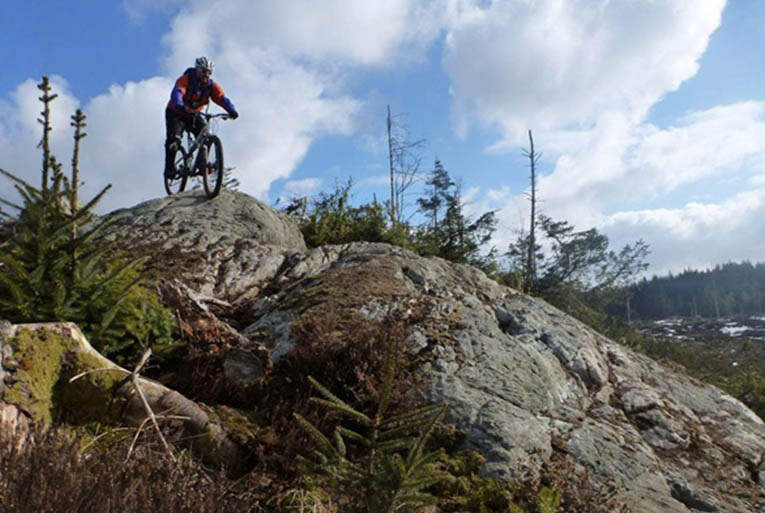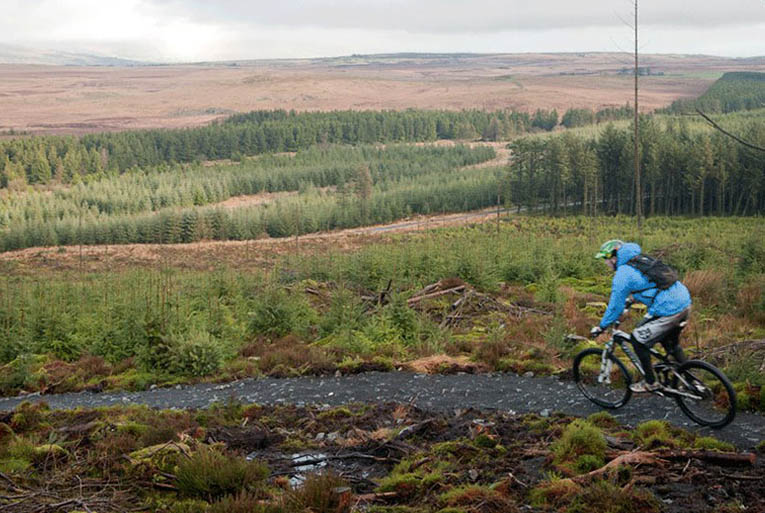 Natural Trails
I'm sure there are some, it is a forest after all but I'm not going to lay claim to knowing where they are.  Davagh is hours away from Rock and Ride headquarters and so I'm afraid we don't offer our mountain bike guiding services up there.  I first rode Davagh Forest years before the trail centre stuff was built and there were some sketchy drops made from slime covered pallets and chicken wire which were good fun.  Unfortunately, they got torn down but are clearly indicative of some willing trail builders in the area.  Chat to some locals and see what information you can glean.
Top Tips
Parking opposite the quarry at other side of the trails to the trailhead can make for a shorter journey.  Not sure of the legalities but that's where we've always gone and it's a big layby with plenty of room.
Davagh is bleak and exposed in places, lacking some of the charm of the likes of Castlewellan and Rostrevor.  Unless you're a bit masochistic I'd avoid the place on windy and cold, damp days.
There are pleasant walking trails in the forest and although there's not loads to do it's the Outdoors and there's a play park so young kids will be easily entertained whilst you do a lap.  Once they're old enough to ride then there are the family trail options.
Ideal For?
Riders of all standards.  Beginners may be a touch stretched on sections of the Red but have the Blue and the skills area to practice on.  Intermediates will love the Red loop and can easily avoid the Black features and experts will have a blast enjoying the flow and the big rocks.
Most Suitable Bike?
Hardtail to 140mm is perfect.  There's little to merit the bigger rigs but that said, you'll still have fun on your 160mm Enduro set-up.
Local Facilities?
There is on-site bike hire, toilets, changing facilities and bike wash.  You can buy food and drinks when the trailhead shop is open.  Beyond that is a bit of a trek with a half hour-ish drive back to Cookstown.  It's clear that this area isn't the tourist honey trap that Rostrevor and Castlewellan are so you'll have to seek a bit harder for readily available amenities.
And a Disclaimer
These trail guides are personal opinions only and as such are entirely subjective.  Other people will disagree but this is what we think.  We're experienced riders and we know what we like.  The guides are written to be factual to a point but are obviously influenced by our viewpoints, if you want clarification on anything then contact us.
Please don't come crying to us if you get lost, hurt or chased by angry landowners when taking cheeky shortcuts.  Many of the forest trails don't officially exist, there is no trail map apart from the trail centres and so you need to exercise care.
Stick to the advice laid out above, be sensible and you'll have an amazing time discovering the stunning Northern Ireland mountain bike trails.  Ignore the advice and just like anywhere in the World you may end up in big trouble.  You have been duly warned. Climbing
Paul Swail
paul@rockandrideoutdoors.com
00447793453278 Mountain Biking
Ian Bailey
ian@rockandrideoutdoors.com
00447803132381